---
The Launch of this year's Poppy Appeal in Devon is set to surprise the city of Exeter. Starting at 11am on Saturday 24th October, a large parade involving numerous cadet units from across the county will march through the city centre to the Cathedral. The activities surrounding the Launch will continue in the afternoon at the city's St James Football Stadium.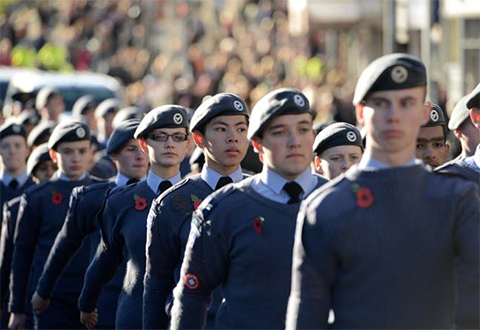 The emphasis of this year's Launch is quite clearly on the county's youth, the future of the Royal British Legion.
The parade will set off from Paris Street at 11am, along the High Street, marching past the Guild Hall to Cathedral Green. Taking the salute at the Guild Hall will be the Lord Mayor of Exeter, Councillor Olwen Margaret Foggin, who will be joined by the Lord Lieutenant of Devon and the President of the Devon Royal British Legion.
At about 11.05am, a Boeing-Stearman biplane, used by the RAF during the Second World War as a training aircraft, will fly above the parade along the High Street.
Led by the Band of the Air Training Corps (Plymouth and Cornwall) and involving county standard bearers and veterans, the parade participants arrive at the Cathedral at 11.20am for a short ceremony of Remembrance before the Lord Lieutenant officially launches the 2015 Poppy Appeal.
Asked to comment on Exeter's high profile involvement in this year's Launch, the Lord Mayor said: "It's a great honour to host this year's Royal British Legion Poppy Appeal Launch. I hear the parade is going to consist of youth marching down the High Street and will be supported by members of the 6th Battalion The Rifles, veterans and World War 2 vehicles".
As the parade passes the Guild Hall, poppies will be dropped from the balcony onto several vintage vehicles of the Second World War which will join the rear of the parade.
The Launch activities continue in the afternoon at 2.15pm when many of those involved in the parade will gather at the Exeter City Football ground prior to the Exeter versus Notts County match.
There will be a short ceremony before the match kicks off, the referee having received the ball from the Lord Lieutenant of Devon. The players will be wearing shirts with the Legion logo. The shirts will be signed by individual players and auctioned after the match. All proceeds are being donated to the Poppy Appeal.
---