---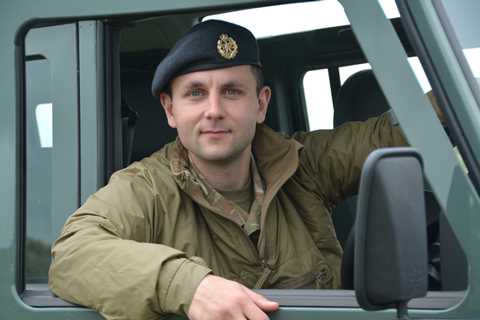 RAF Reservists with 505 Squadron based at St Mawgan have been learning off-road driving skills on the testing sand dunes of Braunton Burrows in North Devon.
The training is a first step to gaining a wide range of qualifications which could also benefit them in their civilian employment.
Being paid as a Reservist to gain a heavy goods vehicle (HGV) licence was a big attraction for 34-year-old Aircraftsman Ian Davie, who is a Royal Mail postman in Exeter.
"I was making a collection from the Armed Forces Careers Office in Exeter. There were posters about the Reserves and the driving opportunities caught my eye. I just made inquiries and applied."
Ian was attested in June 2016 and completed his basic military skills training later in the year. Like other Reservists, the cost of his travel to RAF St Mawgan from Exeter, an 80-minute drive, is covered by the RAF.
"The Royal Mail are very good too," he added. "They give me two weeks' additional paid leave to do my RAF Reserves training and, because my job involves driving, they're pleased that I can qualify for an HGV licence."
Ian was joined at the wheel of a Land Rover at Braunton Burrows by Aircraftsman John Manfield from Budleigh Salterton, Senior Aircraftswoman Lexine Jones, from Plymouth, and Leading Aircraftsman Justian Lewis, from St Austell.
Lexine, a 30-year-old physiotherapist, transferred from another RAF Reserve unit, 4626 Aeromedical Evacuation Squadron at RAF Brize Norton, while Justian, a 45-year-old self-employed bricklayer, was in the Regular Army 20 years ago. John, 34, is an information services manager in in children's social care and his father was a bandsman in the Life Guards, later serving in the Army Reserve.
RAF driver training includes camouflage and concealment, loading and restraints, route planning, self-recovery and basic maintenance. They will eventually be qualified to drive articulated trucks, buses, battlefield ambulances, cranes or airfield vehicles such as fuel trucks, ice sweepers and aircraft tugs.
505 Squadron provides other support for RAF units by supplying intelligence analysts, HR specialists and supplies and logistics personnel – and chefs, who are much in demand.
The Squadron is looking to recruit more self-motivated men or women aged 18-54. They must reach and maintain a certain standard of fitness, according to age and gender. Reservists living up to 100 miles away can claim mileage expenses for attending training at RAF St Mawgan.
All Reservists receive instruction in using a rifle and force protection, in first aid and also chemical, biological, radiological and nuclear defence.
505 Squadron restores the RAF Reserves' presence in the South West after a ten-year absence following the disbandment of 2625 (County of Cornwall) Squadron, Royal Auxiliary Air Force Regiment. It operated from RAF St Mawgan from 1982 to 2006.
---