---
South West qualifying event for National Series 2018.
Exeter School is hosting a British Shooting Target Sprint qualifier on 7th July 2018.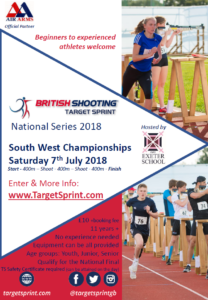 This is the second year the qualifier is being held at Exeter School, with over 70 entrants last year, it was a huge success. The event combines three 400M runs interspersed with two sessions with air rifle target shooting at biathlon style targets.
The South West qualifying event for the National Series 2018 is open to all, aged 11+. The National Series is organised by ex British Pistol Shooter Georgina 'Gorgs' Geikie who represented Great Britain in the 2012 Summer Olympics.
Gorgs is keen to encourage anyone interested to take part in this exciting event.
"We have three categories," she explained. "The youth category is for 11-15 year-olds, the junior for 16-20-year-old and senior is for 21+. We have individual male and female categories as well as an open team event.
"No experience is needed and we provide all the equipment. The top five in each category will go forward to the National Final at the Yate Outdoor Sport Complex in October"
Anyone interested can sign up for the event which takes place at Exeter School from 11am on Saturday 7th July via Eventbrite:
https://www.eventbrite.co.uk/e/south-west-champs-target-sprint-national-series-2018-tickets-42630149926
---