---
Earlier this month 80 skiers participated in Exercise Telemark Titan the British Army Telemark Skiing Championships held in the picturesque setting of Pralongan-la-Vanoise in the French Alps. Among this number were a team of eight Officer Cadets from Exeter University Officer Training Corps (EUOTC), many of them attempting Telemark, a discipline which incorporates downhill, jumping and cross-country skiing, for the first time.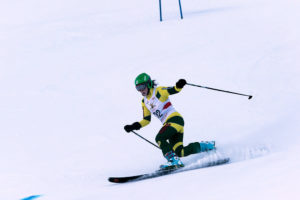 The demanding two-week military exercise began with five days of intensive training that tested the Officer Cadet's strength, stamina and skills on the slopes, made all the more challenging by the heavy snowfall and icy conditions.
With the training over the racing part of the exercise got underway. Among those braving the conditions was 19-year old Team Captain Officer Cadet Ellie Thorn, who said: "I have been Alpine skiing for most of my life but this is only my second season of Telemark I am improving and looking to achieve a high finish in the competition; Telemark is completely different way of skiing with so many contrasting elements and challenges to it including the racing element which is a great thrill. You stand at the start looking down thinking "what I am doing here?" but once you go through the gate it is totally exhilarating and you get to the bottom and just want to do it again. It's insane."
As well as her own outstanding performances, that saw her crowned the overall female Army champion, Ellie was keen to acknowledge the team's performance: "We are a relatively inexperienced team so for six of us to qualify for the championship races is brilliant. We have been helping each other throughout, everyone has thrown themselves into the competition to try and succeed."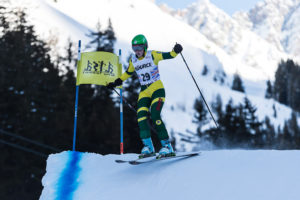 For Major Martin Price, 2nd-in-charge of EUOTC, taking part in exercises like Telemark Titan had clear benefits: "Being able to offer young students the chance to try these types of activities is a great attraction to the Officers' Training Corps. Telemarking gives you an great adrenaline rush, something the team have been finding out for themselves over the exercise, they have shown great enthusiasm and fantastic drive and determination making the most of the brilliant tuition available.
Sport and adventurous training takes the Officer Cadet's out of their comfort zone and enables them to see first hand the packages available in the military, being here also gives them the chance to find out more about a future in the Armed Forces by mixing with serving personnel."
Despite their lack of competitive experience the officer cadets from Exeter put in a number of exciting displays that included, in addition to Ellie's success, Officer Cadet Ben Heaton winning the male novice development race and five top 30 finishes in the championship sprint race – all in all an outstanding achievement.
---