---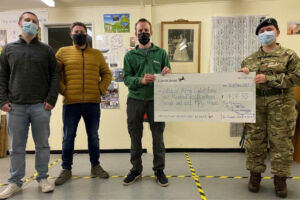 On 30 Nov 21, Melksham Detachment of Wiltshire Army Cadet Force (ACF) welcomed back three former cadets who left the ACF around 10 years ago; Rob McKelvey, Matt Painter and Thomas Pritchard.
The three former cadets, who remain very good friends, explained that they and another former cadet, Ryan Abbot (who couldn't make the visit) had recently completed the Welsh 3000s challenge to raise money for Dorset & Somerset Air Ambulance, as well as for Wiltshire ACF.
The former cadets explained that their friend SSI Jack Land, who was a cadet alongside them at Melksham Detachment and since progressed to being an adult instructor in Wiltshire ACF, was involved in a major car accident a few years ago and rescued by Dorset & Somerset Air Ambulance. The four friends decided to set out on the challenge to raise money for the air ambulance to say thank you for helping to save their friends life and to give something back to the organisation that provided them with some amazing experiences when growing up, as well as a very strong friendship that has lasted almost 15 years to date.
After presenting a cheque for £418.50 to Cadet Corporal Shore of Melksham Detachment, the former cadets spoke with serving cadets and explained how much they enjoyed their time in the ACF.
The generous donation made by these ex-cadets to Wilts ACF will be used to support the 'Cadet Experience'. The Commandant thanked the ex-cadets for considering our ACF organisation when raising funds by completing such an arduous challenge. SSI Jack Land is due to be released from hospital shortly, after remaining admitted for treatment for some 32 months. Mr Matt Painter has himself decided to become a CFAV with Wilts ACF and attended the County adult recruit familiarisation course held at Devizes on 11 and 12 Dec 21.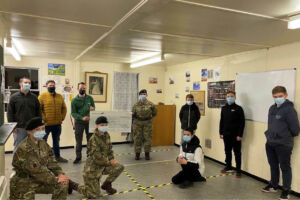 ---