---
The RIFLES will be marching lightly in the footsteps of its antecedent regiment, The Devonshire and Dorset Regiment as it exercises the freedom to parade through two key Dorset towns: Sherborne and Lyme Regis on Fri 21 Sep and Sat 22 Sep respectively.
The freedom granted by the towns demonstrates the trust endorsed by the municipal authorities and stands as an affirmation of the bond between the regiment and its citizens. It will take the form of 48 Riflemen carrying weapons, with bayonets fixed, led by The RIFLES Band, with cadets and veterans also on parade.
The RIFLES was formed in 2007 through the merger of four famous Regiments: The Devonshire and Dorset Light Infantry, The Royal Green Jackets, The Light Infantry and The Royal Gloucestershire, Berkshire and Wiltshire Regiment. Formed in the crucible of operations in Iraq and Afghanistan, the Riflem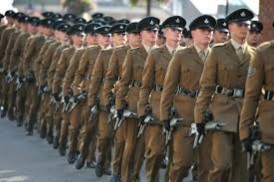 en continue to be deployed around the globe serving UK interests. The links to the community who support the regiment are hugely important and the Freedom Parade is a way of introducing the community to its Riflemen.
This parade will provide a unique opportunity to see the close bond between the community and its local county Regiment. Local Riflemen and Officers will be made available for interviews.
---