---
Members of the Gloucestershire Army Cadet Force joined thousands of people at the 69th Airborne March Event in Arnhem, the Netherlands to remember the war dead by leading the 2015 Arnhem marches.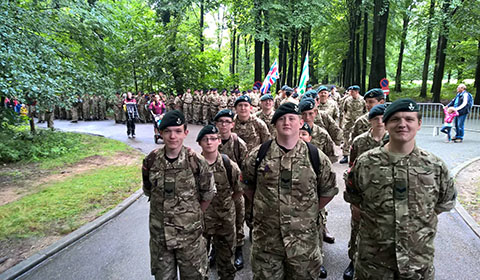 The Airborne March is the world's largest one-day marching event. This remembrance march is in commemoration of the Battle of Arnhem in 1944, and is held every year on the first Saturday in September at the village of Oosterbeek (near Arnhem) in the Netherlands.
The march is attended by military, cadet force, police, and civilian groups and individual participants from over 17 different countries. The routes are laid out through the several villages of the municipality of Renkum in the Netherlands, along the battlefields and drop zones of Operation Market Garden of September 1944.
The Arnhem Airborne March takes place to honour the 1,700 British and Polish soldiers, and airmen who lost their lives during the Battle of Arnhem and are buried at the Airborne Cemetery at Oosterbeek. The revenues from the march are used to enable veterans and next of kin with poor means, to come over to the Netherlands and attend the annual Airborne commemorations in and around Arnhem.
The Adults Instructors and Cadets also conducted a battlefield tour of Operation Market Garden. Part of this tour took the cadets to the Airborne Museum and the Commonwealth War Graves Commission Cemetery in Oosterbeek, and it was sobering for cadets to see that many of the soldiers and airmen buried there were younger than some of them.
SMI Dale Barrington Hawkins who planned the logistics and led the group was surprised by a presentation from Gloucestershire Army Cadet Force Commandant Colonel Paul Saunders, for 20 years of recognition and support of the Arnhem March with Gloucestershire Army Cadet Force (The Rifles)
SMI Dale Barrington Hawkins commented "Once again, Gloucestershire ACF outdone themselves at this prestigious international event. The Cadets and Adults Instructors have learned a lot about war and the impact it has on society and whole nations through the battlefield tour and have thoroughly enjoyed the learning experience battlefield tour and have worked hard to complete the marching event despite the inclement weather conditions, I am pretty choked up right now as words cannot explain how proud I am of the Cadets"
---