---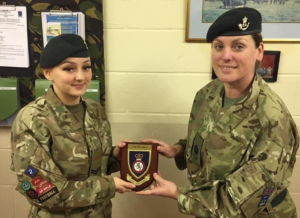 Gloucestershire Army Cadet Force has a new Regimental Sergeant Major Instructor in Ruth Bilboe, a former Sergeant in the Royal Military Police.
She will take up the post on 1 August, joining a small but growing band of female adult volunteers across the UK who have been appointed to carry the RSM's baton.
Ruth is transferring from Hereford and Worcester ACF where she was a detachment commander and Company Training Officer. She also works part-time on the staff of West Midlands Reserve Forces and Cadets Association.
Her key role at Gloucestershire ACF will be to maintain behaviour and discipline and generally to uphold the values of the ACF.
Ruth explained: "Coming from an RMP background, it's a role I understand. But I'm approachable too, I hope! It's also about helping the adults to set a good example, and appreciating that they sometimes need support."
As the ACF emerges from the COVID-19 restrictions to resume activities over the coming months, she will be RSM during a period of transition.
Ruth added: "Cadets will want me to set standards straight away, setting off on the right foot in the right direction."
The ACF had a profound impact on Ruth's teenage life. Having been fostered and adopted and suffered bullying, she credits the Army Cadets with helping her find her voice and confidence.
"I'm indebted to the Cadets for helping make me who I am today," she said.
"I was very shy myself when I joined the ACF detachment at Malvern as a 14-year-old. So when I see young cadets come through and blossom after three or four years, I feel very privileged to have had a part to play in that."
In a neat turn of events, Ruth was recently married to a fellow ACF instructor who was a Cadet in the same Company more than 20 years ago. They met up again six years ago after she had been medically discharged from the Regular Army following a serious road accident in Afghanistan.
Ruth spent 13 years with the RMP in the UK and Germany, also serving on tours to Iraq, Afghanistan, the Falkland Islands, Diego Garcia and Kenya.
She earned a number of commendations, including from the Provost Marshal of the Army in 2011 for "outstanding support for policing whilst serving with 101st Provost Company, 5th Regiment Royal Military Police." As an accomplished cross-country skier, she also represented the Adjutant General's Corps.
For more information about Gloucestershire Army Cadets go to https://armycadets.com/county/gloucestershire-acf/.
---