---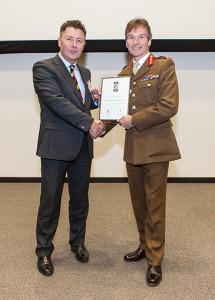 The Ministry of Defence today announced its 2015 Armed Forces Covenant Employer Recognition Scheme Gold winners.
The Employer Recognition Scheme (ERS) recognises employers who actively support Defence and encourage organisations to adopt the same behaviours in their workplace. To qualify for a gold award employers must not only pledge their support but become advocates for support and commitment to Defence personnel.
This year's gold award winners include:
Gloucestershire Hospitals NHS Foundation Trust, Atkins, The Automobile Association, Babcock, Fujitsu, Gateshead Council, Deloitte, Jaguar Land Rover, ISS UK, JP Morgan, M-EC Consulting Development Engineers , National Express, PWC, SERCO, Tesco.
Secretary of State for Defence, Michael Fallon said:
"The support that these companies provide is making a real difference to our armed forces community. Whether allowing reservists the time to train or supporting veterans and spouses, they embody what the Armed Forces Covenant is about."
This year the awards focussed particularly on commitments to employ Reservists, veterans, and forces family members. Commenting on the support received, Army veteran and AA Recovery Patrol of the Year Mo Moran said:
"Working at the roadside presents various challenges so you need to act calmly and decisively in whatever situation you face. The experience and skills I gained in the military help me deal with the unexpected and bring a professional focus to the job. These qualities are ideal for the AA, which offers a range of support for former service personnel and reservists."
2nd Lt George Rawlins, a Reservist at Atkins added:
"As well as the ten days leave for annual Reservist training and the flexible working structure I really love the supportive culture throughout the organisation. My colleagues and line management are genuinely interested in what I'm doing and I'm encouraged to apply what I've learnt in my Army Reserve training throughout my work at Atkins."
---