---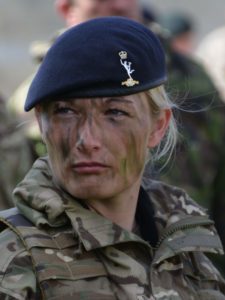 The first Reservist to use Electronic Counter Measure equipment on the front line in Afghanistan was one of three finalists in a special category in this year's Women in Defence Awards 2016, which recognised exceptional service of women working in UK defence.
Bristol-born Staff Sergeant Cassie Downs, 36, of 39th Signal Regiment, is a credit control manager in her civilian life, but in the British Army Reserve she supervises a troop of more than 20 soldiers and looks after millions of pounds of communications equipment.
Cassie, who has been a Reservist for 13 years, has seen action in Iraq and Afghanistan, as well as deploying at home during widespread flooding in Gloucester and Somerset in 2007 and 2014 respectively.
Cassie was one of three candidates in the Special Award category, and her citation said: "Sgt Downs is a unique individual: She is a proactive and motivated professional who finds it effortless to work a full time job, then in the evening manage, train and develop her soldiers in her reserve role.  She is pivotal in maintaining moral, motivation and teamwork in her Squadron."
On learning of her nomination she said: "I was shocked because you do your job and work hard, and you don't expect to get anything from that because the reward is doing the job itself. So I felt quite honoured and wondered 'why me?'"
The Bridlington Secondary School pupil started her Army career as a cadet, rising through the ranks to become Lord Lt Cadet, before answering the call to go travelling. On her return she signed up as a Reservist and never looked back.
"You get to work with people and become friends with people you'd never really come into contact with. You form bonds with people you don't really get from the civilian side of life.
"I love it. I find it pushes you so you're always working outside your comfort zone, which can seem quite daunting. But for me that's when you start to feel like you're living because you push yourself beyond the things you think you're capable of."
In 2013 Cassie was the first female Reservist ever to be awarded as 'top student' on the Army SCLM (Senior Command Leadership Management) course; following that up by leading the winning team on the prestigious 'Lanyard Race', a 50-mile endurance march carrying 40lbs.
She said: "That's the pinnacle of my career, just proving what you can do when you set your mind to things, and with your friends working as a team."
Cassie is currently living in Whitchurch with her mum and dad, following a house move. She said: "I've put my parents under a lot of pressure. When I deployed my parents have supported me 100 per cent. Without them I couldn't have done everything and done so well, but they're really proud of me."
The Awards Dinner was held on Thursday 13 October 2016, where the category winners were presented with their award by Chief of the Defence Staff, Air Chief Marshal Sir Stuart Peach.
To find out more about the Women in Defence Awards 2016 and see the results of last night's awards, visit; http://www.paconsulting.com/events/women-in-defence-awards
---