---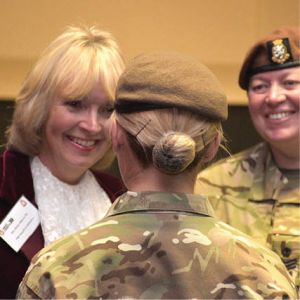 More than a hundred dignitaries, guests, cadets and their families gathered at Dorcan Academy to witness The High Sheriff of Wiltshire, Nicky Alberry DL, officially open the recently formed Swindon based Dorcan Detachment of Wiltshire ACF.
The High Sheriff was joined by the Mayor of Swindon, Councillor Junab Ali, and the Head Teacher of Dorcan Academy, Sherryl Bareham, in inspecting 30 Army Cadets on parade.
All three inspecting officers presented the Cadets with newly designed cap badges which signify their affiliation to the Army Reservists of The Royal Wessex Yeomanry and particularly its Y Squadron, based in Swindon.
The Dorcan detachment, which is part of A (Ferozeshah) Company, Wiltshire ACF, is already showing great progress under the newly appointed Detachment Commander, Staff Sergeant Instructor Carol Maison, and her team of adult instructors. A number of the Cadets are members of Wiltshire ACF's Corps of Drums.
Nearly half of the 35 Cadets established at the detachment are pupils of Dorcan Academy. As it is an 'open' cadet organisation, many others have joined from nearby schools.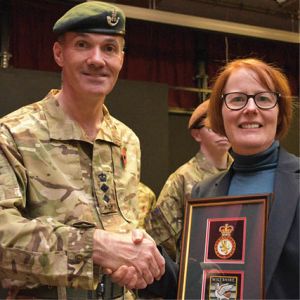 Mrs Alberry also made presentations to Cadets who had earned promotion or had achieved training qualifications and Colonel Mark Nash, Commandant of Wiltshire ACF, presented Mrs Bareham with a framed print in recognition of her support in establishing the detachment.
For more information about Wiltshire Army Cadets call 01380 724114 or email wx-wil-ao@rfca.org.uk.  
---