---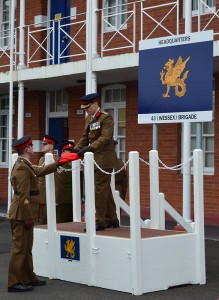 An historic Change of Command Parade took place in the South West of England to mark the transition from Headquarters 43 (Wessex) Brigade (HQ 43 (Wx) Bde) to Headquarters 1 Artillery Brigade (HQ 1 Arty Bde) and Headquarters South West (HQ SW) – the Regional Point of Command.
The change of command, part of the structural changes made under Army 2020, was formally marked at Jellalabad Barracks, Tidworth Camp, Wiltshire by the lowering of the Wyvern Flag and the raising of the Aries. VIPs included Commander Land Forces Lieutenant General James Everard and several Lord Lieutenants including Wiltshire's Mrs Sarah Rose Troughton. The RIFLES band including a bugler and a detachment of Cadets were also in attendance.
The role for HQ 43 (Wx) Bde has included UK operations in the South West region such as the Flooding earlier this year. The HQ has also had the responsibility to integrate the military and civilian authorities and communities with the major Army 2020 rebasing programme bringing thousands more Army personnel and their families to the Salisbury Plain Training Area. It has also supported deployed personnel and their families.
HQ 43 (Wx) Bde can trace its roots to the formation of the Wessex Division in 1908. It has had a turbulent existence and was fully mobilised and expanded to Divisional size for both world wars. The Division was involved in conflicts in Mesopotamia, India and Palestine during the First World War.
Commander 43 (Wx) Bde, Brigadier Piers Hankinson, who departed in style in a rare Rolls Royce armoured car along a route lined by staff and guests, reflected on this history.
"It is a sad day for this iconic Brigade, 43 (Wessex) Brigade), which has its deep roots in the South West and the counties of the South West.
"Particularly when it was a Division seventy years ago fighting in Normandy, through Normandy and then on  in to Germany all the way – I admire hugely those veterans and the Brigade and its iconic battle flag The Wyvern."
Established under Army 2020 the mission for HQ 1 Arty Bde will include commanding, preparing and generating assigned deployable forces. The HQ is in command of a large number of units including 1 Royal Horse Artillery and 19 Regiment Royal Artillery. HQ SW will assume Regional Point of Command responsibilities in the South West which has previously been undertaken by 43 (Wx) Bde.
Comd 1 Arty Bde, Brigadier Jez Bennett, explained about the practicalities of such a set up given the demands of artillery deployments and UK operations.
"We have a big exercise doing Artillery firing in Otterburn in March and the weather will be at its worst in March, so there is a risk we will be split at that time between artillery deployments and UK ops – but we are ready for it.
"I am very lucky to have two full colonel deputies – one dealing entirely with artillery the other with regional matters and they will focus on these activities – and I will go wherever I am most needed."
---