---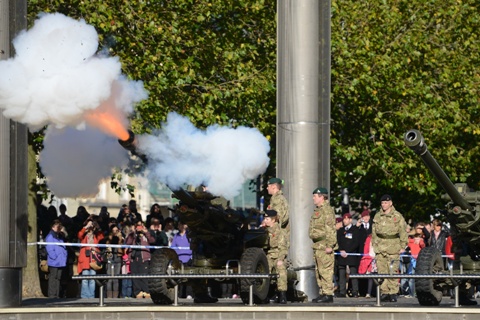 The guns of 266 (Gloucestershire Volunteer Artillery) Battery, Royal Artillery, were fired for the last time on Sunday, marking the end of the traditional two minutes' silence at Bristol's 2013 Remembrance parade.
After that final salute over the Floating Harbour, the two 105mm guns returned to the TA Centre in Whiteladies Road before they were driven out of the gates for the last time.
266 Battery no longer need the guns because the unit is about to be given a new surveillance role under the Future Reserves 2020 plans. It will still be part of the Royal Artillery, but attached to 104 Regiment rather than 100 Regiment.
Whiteladies Road has been home to the Royal Artillery for 154 years and 266 Battery is one of the most historic military units in the city, with a heritage stretching back to 1625, more recently as defenders of the city against the Luftwaffe's bombers during the Second World War. The Battery was given the Freedom of the City in 2009.
Major Tony Ball, Battery Commander, said: "The Bristol Remembrance parade is the second biggest in the country after the commemorations in Whitehall. It is a great honour for our gunners to mark the two minutes' silence in this way.
"We're now looking forward to our new role as an important element of a modern Army Reserve, as the Territorial Army will be known, and still supporting the Royal Artillery."
Lieutenant-Colonel Mike Bishop, commanding officer of 100 Regt, put down a wreath on behalf of 266 Battery and the Regiment at the Bristol Cenotaph. The Reserve Forces and Cadets contingent will be led by the Royal Marines Reserve Bristol.
Click here to view Wessex RFCA's full picture gallery of the Bristol Remembrance Parade 2013.
For more information about 266 Battery call 0117 9738392 or to find out about opportunities in the TA visit www.army.mod.uk/join/20237.aspx. 
---