---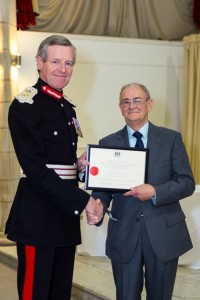 A volunteer who project-managed the £145,000 refurbishment of Falmouth and Penryn Sea Cadet Unit's headquarters has been honoured with the Certificate for Meritorious Service.
The presentation to 72-year-old Gordon Everard by Her Majesty's Lord-Lieutenant of Cornwall, Colonel Edward Bolitho OBE took place during award ceremonies at Truro's Great Hall.
Gordon, a retired engineer and former RAF serviceman who lives in Penryn, has been associated with the Sea Cadet movement for 30 years, starting in Bedfordshire and Hampshire.
He transferred to the Falmouth and Penryn unit following a move to Cornwall and, 11 years ago, took on the formidable challenge of spearheading the modernisation of the building, a former cement warehouse.
"There was asbestos in the roof and the whole place leaked like a sieve," he recalls. "We raised funds to begin the first phase of replacing the roof, lowering ceilings etc, which was finished five years ago. Now the second phase – including dry-lining of all the inside walls – is completed, providing perfect classroom and other facilities."
Gordon is currently vice-chairman of the Unit Management Committee, but still happy on occasions to put on his uniform once again and take charge at what is the county's largest unit with about 50 cadets. "I've done two parades and two Mayor's functions in recent weeks," he revealed.
There is enormous satisfaction, he adds, in seeing young people – some who initially require a little more "tutoring" than others on discipline and attitude – develop confidence and maturity through their experience as cadets.
"Some go on to maritime careers, but the Sea Cadets is not a precursor for the Navy – one of our cadets has just qualified as a doctor."
The Great Hall ceremonies included the appointment of young people as the Lord-Lieutenant's Cadets for the next year, a role which includes attendance at a number of official engagements, including royal visits.
They were chosen on their merits within their respective Cadet forces, but also for their dedication and work within the local community. The line-up included:
Harry Avard, aged 16, of Truro, Leading Cadet, Falmouth and Penryn Sea Cadets.
Calum Deakin, of Truro, Cadet Colour Sergeant, Redruth Detachment, Cornwall Army Cadet Force.
Christopher Yarde-Dent, aged 18, of Redruth, Cadet Warrant Officer, 77 (Redruth) Squadron, Air Training Corps.
---