---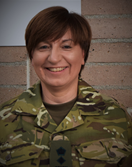 Lt Colonel Sandra Nicholson joined the ACF as a Cadet in 1980 with Purdown Detachment Avon ACF now The City and County of Bristol. As a cadet, she achieved Cadet Staff Sergeant joining the regular Army in 1984.
Re-joining the ACF and Commissioning in 1997, Sandra has held command appointments at every level within the county, including Detachment Commander, Company Second-In-Command and, on promotion to Major in 2005, Officer Commanding B Company Bristol ACF and then County Training Officer. Sandra was promoted to Lieutenant Colonel on her appointment as a Deputy Commandant with Devon ACF in 2012, completing a five-year appointment in December 2017.
Sandra also acts as the ACF's National Adviser for Cadet in the Community, being a member of the ACF's Training Working Group, as subject matter expert for Cadet in the Community and a member of the ACFs Duke of Edinburgh Award panel.
As a Deputy Commandant, she has particularly focused on adult training, development and progression. This has involved the planning and delivery of many courses from across the full range of the cadet experience. Also embracing the wider cadet experience she has organised experimental learning activities and visits to ensure senior cadet retention.
In addition to her volunteering with the Army Cadet Force, Sandra has supported and helped the ABF, The Soldier's Charity and the Royal British Legion.
Outside of her cadet career, Sandra is a learning mentor with the City of Bristol College, she is married to Joseph and they have two children Glenn and Kerrie and two Grandchildren.
---