---
Staff Sergeant Simon 'Spud' Williams will be among soldiers from 43 (Wessex) Signal Squadron, Bath's main Army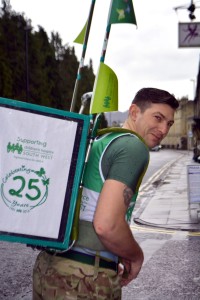 Reserve unit, running in the Bath Half Marathon on Sunday.
And he'll be easy to spot – with 40 kilos of refrigerator and 'refreshments' on his back!
It's all in a very good cause. He's raising funds for Children's Hospice South West, which is based at Nailsea in North Somerset and cares for youngsters with life-limiting or life-threatening conditions.
Why the fridge? "In the Army, most of our fitness tests are run over two laps," explained the 35-year-old veteran of 18 years' service. "Inevitably, people slow down on the second, which we always refer to as 'picking up a fridge'.
"We were sat around chatting one night about the half marathon, with some of the guys planning to beat their best times and that sort of thing. I thought I'd be a bit different, especially as I'm not too worried how long I will take.
"I'm hoping to raise £200, perhaps a bit more."
The Half Marathon route runs right past the Army Reserve Centre in Upper Bristol Road. A number of Reservists will be acting as marshals during the event.
43 Squadron forms part of 39th Signal Regiment which also operates from Army Reserve Centres in Bristol, Gloucester, Cardiff and Windsor.
It provides vital communications support and information management to the Armed Forces, emergency services and local government agencies in times of crisis – for example, flooding, natural disasters or terrorist attacks.
For more information about 39th Signal Regiment, call 01985 223735 or to find out about wider opportunities in the Army Reserve visit http://www.army.mod.uk/signals/25282.aspx
---