---
Infantry Reservists have advanced into Torbay, setting up a detachment of D Company, 6 RIFLES, at Paignton Army Reserve Centre in York Road.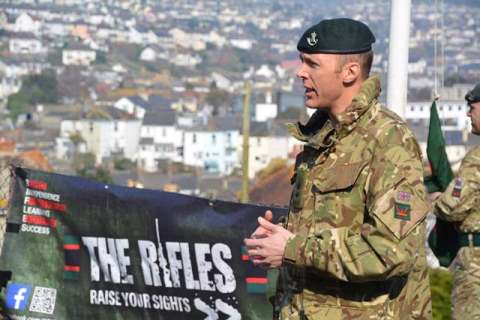 It's the first time for more than 15 years that infantry Reservists have been based there.
For two Riflemen, Brixham-based Kristian Skilton and Chris McGreal, from Galmpton, it means they have only a short trip to training on Tuesday nights rather than an hour's rush hour drive to Plymouth or Exeter.
They hope there will be more 'locals' eager to join their ranks after an Open Evening on Tuesday 5 April.
Kristian, 27, has just transferred from the Regulars after a short spell in the Coldstream Guards. He said: "Here we've got all the perks of the infantry but without the ceremonial drill, which wasn't for me. And it's just down the road.
"I think I'd like to get into the signals side with 6 RIFLES. I want to see how far it will take me. I've got a head start, having done my infantry training."
Chris, 24, went to Churston Ferrers Grammar School. He spent a couple of years as a Reservist with the Royal Wessex Yeomanry, where he trained to drive a Land Rover cross-country and in rough terrain, so is he familiar with life as a Reservist.
"I love the fitness side of it, especially," said Chris who, with his love of the outdoors, has turned to labouring after studying Business and Economics at university in South Wales.
"There's a Quadbike course available through the 6 RIFLES too," he said. "In fact there are a lot of courses available. They all sound interesting and hands-on. I hear there's a scuba diving course in May and I've done some sky-diving so I hope I can carry that on in the Reserves."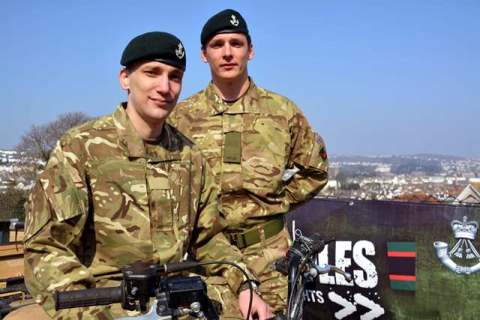 Infantry training involves mastering six different weapons – right through to the fearsome Heavy Machine Gun. Although most of the training will be at Paignton, on some weekends they will team up with the rest of D Company from Plymouth and Truro. 6 RIFLES also goes on exercise with its 'paired' Regular Battalion, 1 RIFLES
Lieutenant-Colonel Tom Harper, Commanding Officer of 6 RIFLES, said: "We've got more than 250 people across the South West, trying to join 6 RIFLES. We offer something unique – working with weapons, grenades, mortars, machine guns. If people are looking for a challenge, there's plenty for them here.
"Although infantry is the focus, there are other opportunities. We have a band, so we are looking for musicians, but also chefs, medics or HR administrators. All of these roles are open to women as well. The Army is recruiting and the Reserves are looking for fit young people who seek to challenge and improve themselves.
"On 5 April people can have a look around and speak to our recruiters but, just as importantly, to some of the guys and girls currently serving to get a sense of what's involved and what the commitment is."
That commitment is at least 27 days a year, including a two-week camp. For 6 RIFLES this year, that camp will be in Brecon in June, with a focus on live firing including the use of live grenades.
Once formally attested and therefore part of the Army, Reservists receive a £300 bonus. On completing Phase 1 of their training they receive £1,000 – plus another £1,000 after Phase 2.  This is over and above daily rates of pay.
For general information about being an Army Reservist with 6 RIFLES visit http://www.army.mod.uk/infantry/regiments/26607.aspx or call 0345 600 8080.
---