---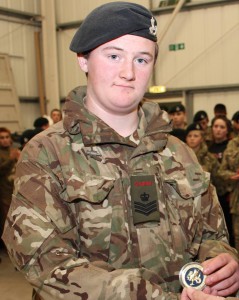 Army Cadet, Colour Sergeant Andy Brogan from the Isles of Scilly Platoon, has been awarded Cadet of the Week by British Forces Broadcasting Service (BFBS).
Andy is the senior Cadet at the island platoon which is situated 30 miles of the South West Coast of Cornwall.
Andy was nominated by his Platoon Commander Captain Tony Smith, who has been absent from the platoon in recent months whilst receiving medical treatment on the mainland. He was keen to ensure that Andy's commitment and dedication to the platoon was recognised.
Tony said: "During this time Andy stepped up to the plate and has exceeded himself in every way.
"Andy Brogan has become so popular that Platoon numbers have increased, and in the last year the Platoon has gone from 18 Cadets to 26. When you consider that here on the islands there are only 50 children eligible to join the ACF, that's over 50% of the population."
In the absence of a Platoon commander, Andy assisted the adult in charge by organising the Cadet training program, preparing all of the lesson plans and teaching the junior Cadets.
The Cadet of the Week competition is a new BFBS feature, and is open to all Cadet Forces. Cadets can be nominated by anyone who thinks they deserve to be recognised for going that bit further. BFBS have already had nominations made by friends, fellow Cadets and senior members of staff.
All nominations made to BFBS are kept on file, and each winner is judged at the start of the week, ready to air on the Sunday Access All Areas show. The presenter of the show, Aimee Dewitt, said that the new feature has already had a great response from across the Cadet community.
BFBS provides radio and television programmes to British Armed Forces communities based around the world. Access All Areas runs from 10am-1pm on a Sunday on DAB, online, on the app or Sky channel 0211, and goes out right across the Forces world.
---