---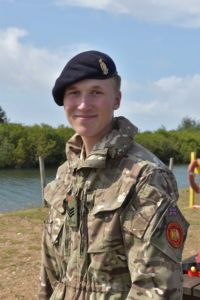 One of Jersey's top Army Cadets has been making the most of his sixth and last annual camp with Dorset ACF before embarking on a career with the Grenadier Guards next month.
Cadet Sergeant Fletcher Cox, 16, has been accepted for initial training at Harrogate having just completed his GCSEs at Grainville School.
Fletcher is the youngest of three Lieutenant-Governor's Cadets, assisting Air Chief Marshal Sir Stephen Dalton on royal visits, the Liberation Day commemoration, Remembrance Day parades and other ceremonial duties.
He also competed against representatives of other cadet organisations to deliver a presentation to the Rotary Club of Jersey which earned £1,000 prize for the ACF.
"I was lucky enough to win and it will help us get more equipment for the ACF on the island," said Fletcher whose own detachment is organised around his school. The family home is at St Lawrence where he has been working for a marquee company during the summer.
Fletcher joined up with cadets from Guernsey to make the 12-hour trip to  camp which drew around 250 cadets and 50 adult instructors from Dorset and the Channel Islands to Lydd Camp in Kent.
Activities during the 10-day camp included shooting and military skills, kayaking, mountain biking and other adventurous activities as well as sports and competitive events.
For more information about opportunities for cadets and adult instructors with the Army Cadets in Dorset and the Channel Islands call 01305 263954 or email wx-dor-ao@rfca.org.uk
---