---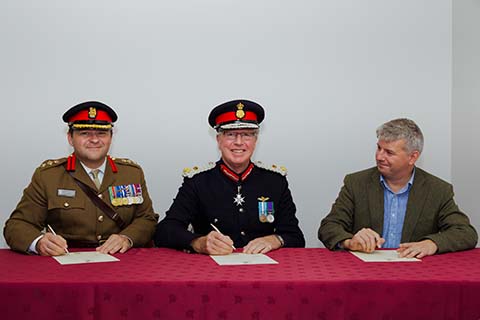 Kingston Maurward College in rural Dorset, has publicly pledged its support to the Armed Forces Community, at the Lord Lieutenant of Dorset's Awards ceremonies.
The Armed Forces Covenant is a promise from the nation, ensuring that those who serve or have served in the Armed Forces, and their families, are treated fairly. Businesses, from sole-traders to multinational, public bodies or charities who wish to support the Armed Forces community can sign the Covenant and publicly declare their commitments.
The Lord Lieutenant's Award ceremony, which is held to recognise outstanding achievement from the Reserve and Cadet communities, was held at Kingston Maurward house.
Kingston Maurward College signed up to a wealth of wide-ranging pledges that offered support to Reservists, the Cadet Forces, veterans and service spouses and families, including;
Ensuring no member of the Armed Forces Community faces disadvantage, and in some cases are given special treatment.
The promotion that they are an Armed Forces friendly organisation.
Working with and advertising vacancies through the Career Transition Partnership (CTP) to ensure opportunities are made available to veterans.
Recognise military skills and qualifications in recruitment and selection processes.
Participating in transition work fairs.
Sympathetically reviewing requests for holiday from Service spouses and partners where deployment impacts on family life.
Consider special leave for employees who are bereaved or whose partner is injured.
Welcome applications from service spouses and partners, offering interviews to those who meet the criteria for the job.
Actively encourage staff to become a Reservist through work place information events provided by the Services.
Offer up to two weeks of special paid leave to attend annual training camps.
Accommodate Reserve training commitments wherever possible.
Engage with the Department for Education and RFCA to investigate the opening, and running, of a successful Kingston Maurward College CCF Unit and offer support to other units by way of partnership and mentoring.
Actively encourage staff to volunteer in the Cadet Forces.
Offer support or sponsorship in kind to local Cadet activities.
Make facilities or premises available for use of Cadets where appropriate.
Work with Wessex RFCA to gain understanding of the Cadet Forces, and potential opportunities to assist.
Become an Armed Forces Day partner, using the logo, flying the flag, follow on social media and posting messages of support.
Link to the Armed Forces Day website.
Encourage employees to take part in Armed Forces Day events, gathering stories and working with the press.
Publishing stories on the website, social media, through own membership as well as other networks.
Offering concessions to the Armed Forces Community during Armed Forces week and other military themed events around Dorset.
Assist the Royal British Legion in selling poppy's at Kingston Maurward College and encouraging staff and students to support with a 1 minutes silence at appropriate times and to wear a poppy whilst in school.
Participating in Remembrance Day services and wreath laying, encouraging Staff and Students to participate either as representatives from Kingston Maurward College or as members of the Cadet or local youth organisations.
Encourage students and staff to raise money for Armed Forces Charities.
Kingstone Maurward College is a land-based College, with a beautiful and inspiring campus in Dorchester, Dorset. The College specialises in providing a wide-range of full-time, part-time, apprenticeship and university level courses to help students grow their career.
Over 3,000 organisations from across the United Kingdom have pledged their support to the Armed Forces Community by signing the Armed Forces Covenant.
To find out more about how your organisation could benefit from pledging their support to the Armed Forces community contact the Regional Employer Engagement Director, Jon Beake on 01823 250110 or wx-reed@rfca.mod.uk or Rachael Brannagan on 01823 250118 or wx-reed2@rfca.mod.uk. To find a list of all those who have signed up to the Armed Forces Covenant visit www.armedforcescovenant.gov.uk.
---