---
Air Cadets from Devon & Somerset Wing of the Air Training Corps have recently returned from their half-term camp known as Exercise Phoenix Griffin. The cadets and volunteer adult staff deployed to Swynnerton Camp in Staffordshire for a week's training.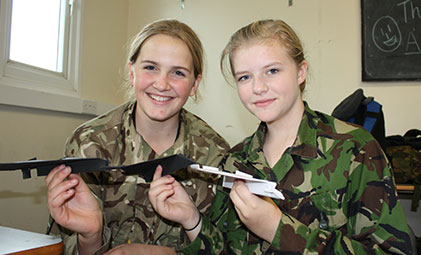 Activities included shooting, first aid training, initiative and military skills.  The cadets also received a visit from the RAF Motivational and Leadership Team taking part in practical exercises designed to develop their skills.  They were also able to practice their first aid in realistic casualty scenarios.
Lady Elizabeth Gass, the Lord Lieutenant of Somerset, and Air Chief Marshal Sir Peter Squire, were amongst the visitors who attended to see the activities on offer including target shooting on the range.
The exercise is run by volunteer staff who give up their free time to support the cadets.  Staff have a wide variety of civilian backgrounds including: paramedics, police officers, businessmen, engineers and teachers. 
Squadron Leader Dave Rolfe said, "The week's camp is a fantastic experience for the cadets, many of whom have not stayed away from home before.  They become self-reliant and motivated and confident in their own abilities, as well as having a lot of fun."
None of these activities could take place without the adult staff, there are a number of vacancies at squadrons throughout the Devon & Somerset Wing.
The Air Training Corps is open to young men and women aged between 12 and 20.  Flying, gliding, sports and adventure training are some of the other activities that Air Cadets participate in.  For further information contact Wing Headquarters on 01392 275173 or visit www.aircadets.org.
---