---
39 Signal Regiment and 7 Military Intelligence Battalion undertook a joint event at Leidos Bristol in support of Armed Forces week. The units were invited through one of 7MI's serving soldiers LCpl Organ, who is a director in Leidos.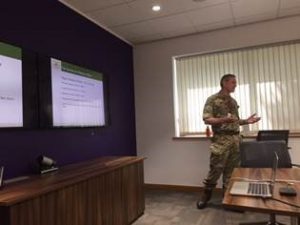 A combined Royal Signals and Intelligence Corps briefing team, consisting of Maj Prowse (7MI), Capt Bath (39 Sig Regt), SSgt Hyde (39 Sig Regt) and LCpl Organ, delivered well received briefings, on both the unit roles and on the wider Army.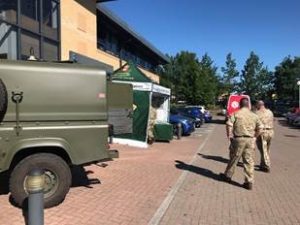 Equipment stands, from both units, were on display along with a chance to speak to serving reservists. The event which encompassed Recruiting, Community and Employer Engagement was well received by the Leidos employees, with both units receiving a number of expressions of interest.

Leidos (Europe) are the MOD's logistics partners delivering a 21 Century supply chain for Defence.
---