---
Of the thousands of men and women who serve in the Army Reserve, 24-year-old Leila Jones, a law graduate from Paignton, is proud to claim a unique distinction – as the only person recruited solely for her talent as a singer.
Musician Jones – 'Musician' is her Army rank – parades with HQ Company, 6 Rifles, at Wyvern Barracks, Exeter, which is also the base for The Rifles' Salamanca Band and Bugles.
While she's happy to help out the instrumentalists by playing the cymbals occasionally, her specialist role is up front, performing at ceremonial engagements or singing her favourite soul at less formal occasions.
In true Vera Lynn style, she has even enjoyed leading audiences in wholehearted performances of 'We'll Meet Again' and 'The White Cliffs of Dover'.
"As a youngster, I wondered if I would make it as a singer," she says. "That didn't happen. But joining the Reserves has been brilliant. I like to throw myself fully into every activity, whether it's through music, out training with the rest of the Company or on one of my ski-ing trips with the Army."
Leila, whose mum Louise runs the Torbay Sands Hotel and Victory tea room on the seafront at Preston Sands, studied classical singing to Grade 8 standard in her teens between fronting several rock bands.
She was head girl at Trinity School, Teignmouth, where she wore uniform for the first time – as a Royal Navy cadet. The experience influenced her decision to join Exeter Officer Training Corps after moving on to Plymouth University to take her law degree.
And that's where a lucky succession of events led to her becoming the golden voice of the Salamanca Band.
Leila explained: "In the OTC, I started a band – there were 11 of us. As the OTC is based at Wyvern, we asked permission to use the Band facilities for our practices. People then heard me singing and, as a result, I was asked if I would like to join the Band to sing soul on a tour to Dubai.
"As I was already in the OTC, it wasn't too much of a problem joining the Army Reserve, which happened in April 2014."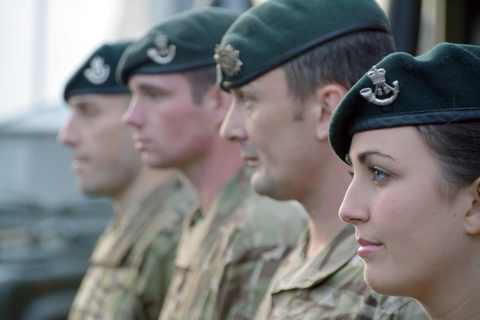 After Dubai, the Band visited Saudi Arabia – "an extraordinary experience where we played in front of schoolchildren who had never previously known live music. Never before have I signed so many autographs!" There was also a tour to Georgia and Armenia.
Leila is starting a legal practitioner's course at the University of Bristol later this year. But she will remain with her unit in Devon and continue to represent 6 Rifles as the only female member of their ski-ing team.
Her long-term ambition? To join the Regular Army as a lawyer.
The Band and Bugles rehearse at Wyvern Barracks every Tuesday evening (7.30 – 9.30pm) and on certain weekends. Not just a marching band, they offer within their ranks a big band, concert band, jazz band, a pop group and smaller woodwind and brass ensembles.
Although principally musicians, they take part in a range of military and adventure training activities. Enlistment is via audition based at Grade 6. Call 01392 492458 for more information.
6 RIFLES has also begun to recruit for its new detachment at Paignton Army Reserve Centre. As well as training infantry soldiers on a variety of weapons they are looking for chefs, medics or HR administrators, all roles which are open to women as well.
For general information about being an Army Reservist with 6 RIFLES visit http://www.army.mod.uk/infantry/regiments/26607.aspx or call 0345 600 8080.
---