---
Employers from the South West donned ear defenders – and felt the earth move – at a live-firing exercise by Reservist crews of The Royal Wessex Yeomanry Reservist manning the Army's mighty Challenger 2 battle tank at Lulworth, Dorset.
The visitors were invited as part of the national tri-service drive to build stronger relationships with businesses and business people. None had a more direct interest in the spectacular display than Ryan Evans and colleagues from the specialist land-based Kingston Maurward College, near Dorchester.
Ryan teaches within the College's outdoor adventure and sport department but primarily works with the public services and military preparation team, where student numbers have grown rapidly in recent years.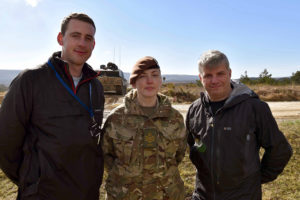 As such, his skills – and those of his students – need to be the best they can be. Which is why Ryan is currently going through selection to join The Royal Wessex Yeomanry, with the hope that one day he could end up crewing a Challenger 2 tank.
As far as College Principal Luke Rake is concerned, it's an ideal arrangement – even though there may well be two weeks in term time when he loses a key member of staff to Army basic training.
He said: "We have discussed this possibility and, whilst it brings certain logistical challenges, the net benefits for him and the College are much more significant, not least in terms of his development as a leader within the institution, but also in how he can bring current thinking to our students who are also considering the armed forces as a career.
"We are fully supportive of this ambition. The College is committed to supporting all local industries and, with major army presence within the county, we are keen to engage as effectively as we can to support the work the armed forces do and also ensure that we can be a conduit for them to effectively reach our young people."
Next step for Kingston Maurward? Luke Rake says the College is considering the possibility of introducing a Combined Cadet Force unit, further opening up opportunities for students to gain life skills and self-confidence to help them reach their full potential.
Lieutenant-Colonel Ben Burdon-Cooper, commanding officer of the Royal Wessex Yeomanry, explained that the Lulworth employer event was "a chance to thank the employers who support us, from the large companies like Qinetiq to the smaller ones. It's an opportunity to show them what we do, how we train their employees in their Reservist roles and how that can benefit them too.
---