---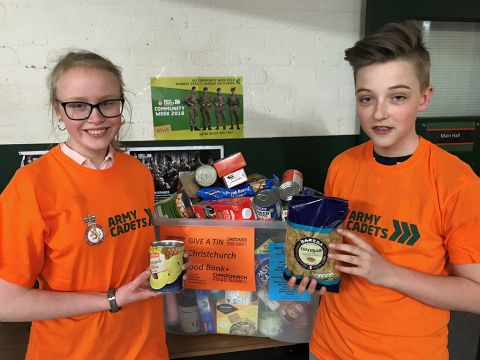 Army Cadets from Christchurch and Parkstone Detachments are all set to help members of their community next month as they take part in the National Army Cadet Force Community Week Event.
To celebrate the Army Cadets 'Community Week' (1st -7th April) Cadets from Christchurch Detachment, Dorset Army Cadet Force (ACF) are going to be building extra storage to increase capacity at the Christchurch Food Bank+ at St Joseph's Church in Purewell, Christchurch where they have been volunteering for the past year.
Lt Thor Elsson; the Detachment Commander for Christchurch said; "The idea to help the local food bank came from the Cadets themselves. Last year they started to work with the Food Bank as part of Community Week 2018 and continued to volunteer on a weekly basis after the event. They've been very proactive in their work and having seen that the capacity needs to be increased, they jumped at the chance to help out again.
Meanwhile at the Parkstone Detachment in Poole the Cadets and Instructors are holding a FREE Heart Start Training Session for members of the public to attend and gain vital, life-saving skills including CPR and how deal with bleeding and choking casualties. The event will run on Thursday 4th April 2019 from 19:00 – 21:30 at their ACF Detachment Building, Weymouth Road, Parkstone, Poole, BH14 0DS. On completion attendees with receive a Certificate and have gained the knowledge of how to potentially save someone's life.
Detachment Commander; SI Ross Wheeler-Clayton said: "First Aid is one of the many skills we teach our Cadets during their time with us and there have been several cases recently where Cadets have utilised these skills to help those in need. Offering this free session to the public is just expanding the pool of people who have the knowledge and confidence to help others if the need arises."
He added; "The session is FREE but we are accepting donations for the Meningitis Now Charity and the Detachment. There is no need to book, just turn up on the night and join in. If you want any further information please contact me on 7329wheele@armymail.mod.uk."
"The Army Cadet Force (ACF) is all about action, adventure, fun and friendship," continues Acting County Commandant; Lt Colonel Andy Garrett "but we also enjoy doing our bit for the community. All our cadets get involved in community activities as part of their training and their 'Cadet and the Community' activities also help them in working towards a Duke of Edinburgh's Award.
"To help give more young people the chance to take part in cadet activities Dorset ACF is looking for more adults to join us as instructors," Lt Col Garrett added "No previous military experience or high levels of fitness are needed. What's important is common sense, drive and determination and the ability to communicate with young people."
---