---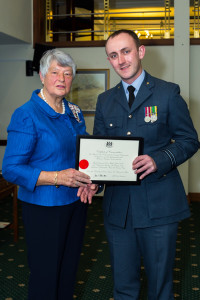 A 33-year-old IT consultant who spearheaded the revival of Cirencester's Air Training Corps Squadron after a half-century break, has been honoured with a Certificate for Meritorious Service from Her Majesty's Lord-Lieutenant of Gloucestershire, Dame Janet Trotter DBE.
Flight Lieutenant Ollie Dalton, of Malmesbury, took over in 2012 a few months after the unit had started again with no more than about 15 youngsters. Now, there are 40 – and plenty more eager to join from a waiting list.
The Certificate recognises service of an exceptionally high order by people connected with the Reserve Forces or uniformed cadet organisations.
"One of my first moves was to reorganise the programme to include as many varied activities as possible to raise enthusiasm. And the cadets responded really well," he said.
"Different challenges help give confidence to some of the quieter, younger ones. At the same time, it's interesting to see those who might perhaps tend to a bit troublesome gradually settling down and responding to discipline and a teamwork ethic."
Ollie, who also works as an Ambulance Emergency Care Assistant with the South Western Ambulance Service, was himself an Air Cadet in his home town of Malmesbury.
As an Adult Instructor, he helped the Tetbury and Dursley ATC units before taking charge at 1245 (Cirencester) Squadron.
The certificate was presented during ceremonies at the Allied Rapid Reaction Corps headquarters, Imjin Barracks, Gloucester.
---