---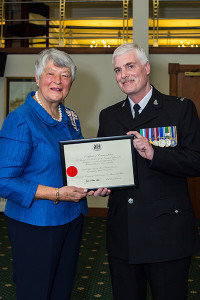 When Bob Brunsdon, of Longlevens, Gloucester, retired in 2012 after 30 years' service as a police officer, he took an instant decision to take on voluntary work – as a Special Constable.
In recognition of his achievements since – notably in setting up the Gloucestershire Road Safety Educational and Enforcement team – he received a Certificate for Meritorious Service from Her Majesty's Lord-Lieutenant of Gloucestershire, Dame Janet Trotter DBE.
The ceremony was held at the headquarters of the Allied Rapid Reaction Corps, Imjin Barracks, Gloucester. The Certificate recognises service of an exceptionally high order by people connected with the Reserve Forces or uniformed cadet organisations.
The Road Safety team comprises a small number of Special Constables who work with the Road Safety Partnership, parish councils and community Speed Watch teams to help reduce road accidents in the county.
"It's fairly low level enforcement, the sort of stuff the regular force don't have the manpower to do," explained 53-year-old Bob, who was promoted to Police Special Sergeant earlier this year.
"But I get a great amount of satisfaction from the role. Of course, I thoroughly enjoyed my full-time police career, but it's almost more fun doing it as a volunteer as it means I can pick and choose what I do and when I do it."
Bob also works as a Gloucester Civic Trust Guide and he is a member of the Guild of Battlefield Guides.
The Certificate for Meritorious Service was also awarded to 40-year-old Mark Slade, of Abbeymead, Gloucester, a Sergeant-Major Instructor in B Company, Gloucestershire Army Cadet Force.
The ceremonies included the appointment of young people as the Lord-Lieutenant's Cadets for the next year, a role which includes attendance at a number of official engagements. They were chosen on their merits within their respective Cadet forces, but also for their dedication and work within the local community. Representatives from Gloucester are:
Jack Easton, aged 17, Cadet Corporal, Gloucester Royal Marine Cadet Detachment. His career ambition is join the Royal Marines as an Officer.
Poppy Benson, aged 17, Colour Serjeant, Eastern Avenue Platoon, Gloucestershire Army Cadet Corps.
---