---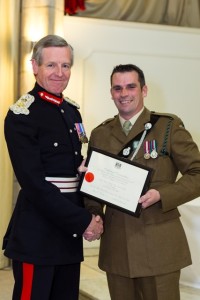 A Royal Mail delivery manager based at Helston has celebrated 15 years as an Army Reservist with the award of HM Lord-Lieutenant of Cornwall's Certificate for Meritorious Service.
The presentation to 37-year-old Colour Serjeant Robin Parker by Her Majesty's Lord-Lieutenant of Cornwall, Colonel Edward Bolitho OBE took place during ceremonies at Truro's Great Hall.
Robin, who lives near Penryn, joined the Army Reserve at the former Camborne Territorial Army base after seeing an advertisement about the TA on television.
"A mate and I went to the drill hall one night to see what it was all about and things just developed from there. It's been a great experience, with so much variety – anything from exercises in the Ukraine and Cyprus to ski-ing every year in Austria, Switzerland or France."
Robin, now with Truro-based D Company, 6 RIFLES, has built a reputation as the Battalion's most knowledgeable and experienced machine-gunner. He twice won gold medals as the Army Reserve champion as well as helping his Company triumph in the team competition – and will be bidding for more success in the near future.
The Great Hall ceremonies included the appointment of young people as the Lord-Lieutenant's Cadets for the next year, a role which includes attendance at a number of official engagements, including royal visits.
They were chosen on their merits within their respective Cadet forces, but also for their dedication and work within the local community. The line-up included:
Harry Avard, aged 16, of Truro, Leading Cadet, Falmouth and Penryn Sea Cadets.
Calum Deakin, of Truro, Cadet Colour Sergeant, Redruth Detachment, Cornwall Army Cadet Force.
Christopher Yarde-Dent, aged 18, of Redruth, Cadet Warrant Officer, 77 (Redruth) Squadron, Air Training Corps.
---