---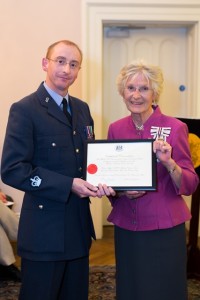 A 40-year-old Yate man has been honoured for his inspiring work with Cadets of the Air Training Corps.
Matthew Foster, a civilian officer with Avon and Somerset Constabulary for the past 23 years, received the award received the Certificate for Meritorious Service from Her Majesty's Lord-Lieutenant of the County and City of Bristol, Mrs Mary Prior MBE JP.
The Certificate recognises service of an exceptionally high order by people connected with the Reserve Forces or uniformed cadet organisations. The presentation took place at the Merchant Venturers Hall, Clifton.
He is currently Warrant Officer of the Bristol and Gloucestershire Wing, which involves visiting its 29 units to ensure that standards of dress and disciplined are maintained. "It's just part of helping to encourage good citizenship and the development of young people of honesty and integrity," he says.
Matthew carries out similar work with units throughout the South West.
Previously, he specialised as an ATC trouble-shooter, helping to revive squadrons with low cadet numbers or those short of adult instructors by taking over as Warrant Officer. At various times, units that benefited included Yate and Chipping Sodbury, Thornbury, Clevedon and Frampton Cotterell, all now thriving.
His main hobbies are hill walking and skiing – plus occasionally helping out a friend as a hot air ballooning crew member.
Also awarded the Certificate of Meritorious Service was:
Michael Turner, of Little Stoke, who, as Flight Lieutenant of 2002 (Kingswood) Squadron, Air Training Corps, has been instrumental in building the unit from a period of struggle to one of the most successful in the area. He is a former Territorial Army Reservist.
The ceremonies included the appointment of young people as the Lord-Lieutenant's Cadets for the next year, a role which includes attendance at a number of official engagements. They were chosen on their merits within their respective Cadet forces, but also for their dedication and work within the local community. The line-up included:
Loui Crew, aged 17, of Saltford, Cadet Sergeant Major, Bristol Army Cadet Corps.
Jalil Seyidov, aged 17, Cadet Petty Officer, Clifton College Combined Cadet Force.
Robert Taylor, aged 18, of High Littleton, Cadet Warrant Officer, 2386 (Keynsham) Squadron, ATC.
Grace Williamson, aged 16, of Henleaze, Leading Cadet, Bristol Adventure.
Robert Thompson, aged 18, of Berkeley, Cadet Flight Sergeant, 2392 (Thornbury) Squadron, ATC.
---