---
A Lord Lieutenant's Cadets are chosen to reflect the very best of a county's young people, and the trio chosen to assist Colonel Edward Bolitho OBE on official engagements in Cornwall certainly meet that requirement.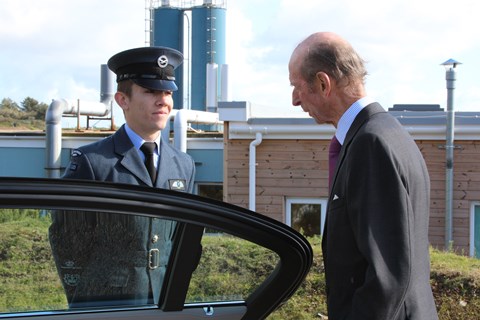 Their career ambitions also mirror the kind of opportunities that many Cornish youngsters might aspire to: restaurant management, marine engineering and the RAF.
All three are studying at Sixth Form Colleges at Redruth and Truro but also find time to embrace a host of other activities in their local communities.
Colour Serjeant Calum Deakin, aged 17, of Redruth Detachment, Cornwall Army Cadet Force, spends much of his spare time volunteering at Boscawen Farm, Truro, which offers work and training opportunities for the benefit of adults with learning disabilities.
It is, he says, "a most rewarding experience that can be challenging at times – but is so worthwhile. I've made a lot of friends – I like the thought that when I turn up at the farm, everyone knows me."
Calum, who lives at Mount Hawke, Truro, joined the ACF in 2010 and is working towards Master Cadet status as well as the Duke of Edinburgh gold award. He has represented the county ACF shooting team in competitions at Bisley.
He attends Truro College, where he is taking an advanced restaurant management course, but has plans to join the Army Reserve once his cadet days are over.
Callum has thoroughly enjoyed his years as a cadet, which has included three battlefield tours. He adds: "I think the ACF has made me a more responsible person with a better outlook on life."
His Lord-Lieutenant Cadet duties so far have ranged from two Remembrance parades to a presentation at a boxing club.
Leading Cadet Harry Avard, aged 16, of Falmouth and Penryn Sea Cadets, enjoyed a busy start to his year as a Lord-Lieutenant's Cadet, attending the Trafalgar Parade at Madron, Penzance, and a Remembrance Parade in Truro.
The Truro College student joined the Cadets in 2011 with the idea of "looking for a challenge and doing something a bit different as well as making new friends."
Harry has achieved numerous qualifications, not least Royal Yachting Association certificates in powerboating, sailing, navigation and seamanship. He is a Sea Cadet Corps rowing coxswain and has taken part in the National Indoor Climbing Achievement Scheme.
As someone with ambitions to become a marine engineer, his experiences of visiting different naval ships has been a real highlight. "We sailed from Plymouth to Falmouth on HMS Lancaster and at one point were allowed to helm the ship – absolutely brilliant," he added.
The Air Training Corps Squadron at Redruth has experienced a dramatic near-doubling of numbers in recent months – thanks in no small part to the enthusiasm and drive of Warrant Officer Chris Yarde-Dent.
Cadet numbers had slumped to around 20 when the 18-year-old Redruth Sixth Form College student was asked to take a lead role in a recruitment drive. "Together with one of our staff members, I visited two schools and gave a presentation, which immediately attracted a lot of new faces," he said.
"Not everyone will choose to be a Air Cadet, of course. But we're now in a position where there is a regular attendance of almost 40. And I've been asked to go back to a school in the New Year and run a workshop."
Chris's own introduction to 77 (Redruth) Squadron was prompted by a similar recruitment initiative at his school. "I listened to the presentation and thought it looked good and decided to give it a try. Since then, I've taken every opportunity on offer to tackle a whole variety of activities. It's given me confidence as well as a degree of self-discipline and respect for others that you don't always find at school."
Chris's experiences range from playing with the Plymouth & Cornwall Wing Band at a military tattoo in Malta to completing his Duke of Edinburgh Gold Award with a four-day trek in Cumbria studying water formations.
He is a Master Air Cadet with a qualification that allows him to teach and help other cadets with their classification training; one of the small number of Cadets to complete the aerospace instructor's course; a Corps-level marksman; and a member of a champion drill team at regional level. He hopes to become an air traffic control officer in the RAF.
---