---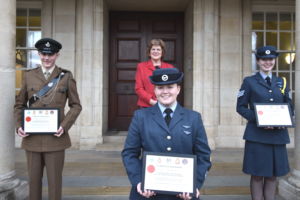 Four of the most accomplished and public-spirited young people in Wiltshire are embarking on a year they will never forget, supporting Mrs Sarah Troughton as her Lord Lieutenant's Cadets.
An investiture ceremony, following social distancing rules, was held at Trowbridge Town Hall for the following:
Cadet Warrant Officer Charlotte Smith, from Calne (RAF Air Cadets).
Cadet Flight Sergeant Saffron Sharpe, from Chippenham (RAF Air Cadets).
Cadet Colour Serjeant Matt Hodgson (Warminster School Combined Cadet Force).
Army Cadet Corporal Ellie Hendricks (Royal Wootton Bassett Det, Wilts Army Cadets), from Brinkworth, could not attend. She will be presented with her investiture certificate by the Lord-Lieutenant at the earliest opportunity.
Like their counterparts in other counties, all have been chosen for their outstanding service in their cadet organisations, whether in the uniform of the Sea Cadets, Army Cadets, Air Training Corps or Combined Cadet Force in local schools.
The Lord-Lieutenant is the Queen's representative in each county so the cadets' duties include assisting her on royal visits and other ceremonial occasions and acting as ambassadors for their own cadet organisations.
---