---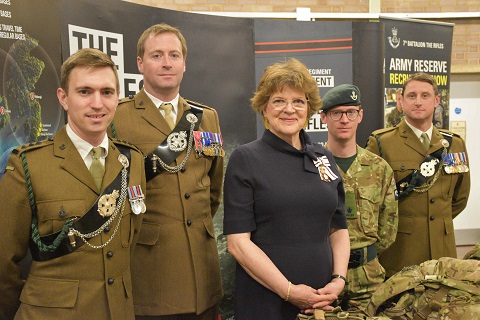 Senior officers of 7 Rifles welcomed Her Majesty's Lord Lieutenant of Wiltshire, Sarah Troughton CStJ, to Swindon Army Reserve Centre to hear about the battalion's deployment to Cyprus next month and their strengthening presence in the town.
Mrs Troughton was met by Lieutenant Colonel James Gayner MBE, Commanding Officer of 7 Rifles, which is the lead Battalion on Op Tosca, sending a total of 140 Reservists alongside 100 members of The 5th Fusiliers.
Fourteen members of B Company, based in Swindon, have been mobilised for Op Tosca 32, the latest British contribution to the longstanding UN peacekeeping mission in Cyprus.
B Company is 7 Rifles' fastest-growing sub-unit with 58 Reservists on strength. It was only in 2017 that the detachment was upgraded from a Platoon to a Company, with an establishment of 79. It also has a Platoon at Bulford Camp on Salisbury Plain.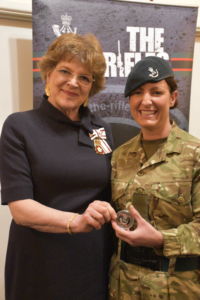 The officer commanding B Company, Major Nathan Horsman, briefed Mrs Troughton before she made a presentation of a special 'Rifles Coin' to Rifleman Rebecca Connolly, who recently became the first female recruit – Reservist or Regular – to pass the Combat Infantry Course.
7 Rifles is the only Reservist armoured infantry battalion in the south of England. They are paired with the Regulars of 5 Rifles, with a principal mission to operate from Warrior fighting vehicles on front-line operations.
The Battalion has its headquarters in London along with other bases in Berkshire, Buckinghamshire and Oxfordshire.
Swindon Army Reserve Centre in Church Place is also undergoing a £2.5 million rebuild and refurbishment which will benefit three other Reserve units – Y Squadron, The Royal Wessex Yeomanry, 280 Movement Control Squadron (RLC) and 129 Field Company, 104 Bn REME.
The work is project managed by and funded through The Wessex Reserve Forces & Cadets Association, with completion due in June 2021.
To find out more about 7 Rifles and the Army Reserve email recruiting@7Rifles.co.uk
---