---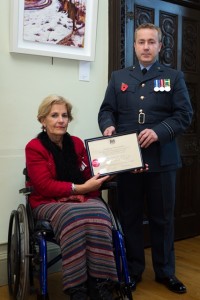 A 39-year-old construction company project manager has been honoured for his outstanding leadership and commitment to the cadets of the Air Training Corps in Weston-super-Mare.
Flt Lieutenant Steve Manville, officer commanding 290 (Weston-super-Mare) Squadron of the ATC, received the prestigious Certificate for Meritorious Service from the Lord-Lieutenant, Annie Maw, during ceremonies at the Bishop's Palace, Wells.
The Certificate recognises service of an exceptionally high order by people connected with the Reserve Forces or uniformed cadet organisations.
Steve has been involved with the ATC for 25 years, since he was a 14-year-old cadet. "I wanted to be an RAF pilot, as every Air Cadet does. But after I became a senior Cadet and then Warrant Officer Cadet I went straight on to be an adult instructor.
"I then joined the staff, gained my commission and became officer commanding 10 years ago."
Steve, who works out of the Bristol office of Faithful & Gould on commercial construction projects, has still found time to take on further duties as the Devon and Somerset Wing Staff Development Officer. "The qualifications we now need as adults and instructors are quite stringent these days," he explained.
"But there's never a dull moment with the Cadets," he added. "It's great to see them develop from a shy 12-year-old. When they leave at 20, they have so much confidence because of this organisation. Some can fly a glider solo at 16 – before they can drive a car.
"That's the thrill we get out of it as adults, seeing what they have achieved, especially when they come back to visit us. We've had them here telling their 'Cadet to Captain' story, wearing their 'wings' as RAF, Royal Navy or civil airline pilots."
The Wells ceremonies included the appointment of young people as the Lord-Lieutenant's Cadets for the next year, a role which includes attendance at a number of official engagements, including royal visits.
They were chosen on their merits within their respective Cadet forces, but also for their dedication and work within the local community. The line-up included:
Lara Davies, aged 16, of Street, Leading Cadet, Glastonbury and Street Sea Cadets.
Henry Elliot, aged 18, of South Petherton, Cadet Sergeant Major, Somerset Army Cadet Force.
Rohan Goodland, aged 18, of Shepton Mallet, Cadet Warrant Officer, 1182 (Shepton Mallet) Squadron, Air Training Corps.
Sam Gregson-Brown, aged 17, of Bradford-on-Tone, Cadet Flight Sergeant, 41F (Taunton) Squadron, ATC.
Adam Packer, of Yeovil, Company Sergeant Major, Yeovil Detachment, Somerset ACF.
Thomas Pilkington, aged 17, of North Newton, Bridgwater, Cadet Coxswain, Wellington School Combined Cadet Force.
Hamish Murdo, aged 17, of Bradford-on-Tone, Cadet Colour Sergeant, Kings College, Taunton, CCF.
---