---
The achievements of a Shepton Mallet woman in providing outstanding leadership and inspiration to Somerset's Air Cadets have been recognised with the Lord-Lieutenant's Certificate for Meritorious Service.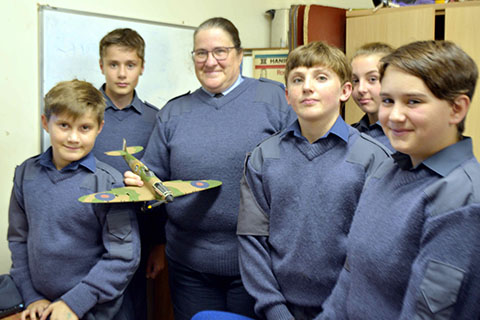 Officially, the award to Warrant Officer Alison Tolson was for her pivotal role in saving the struggling Air Training Corps Squadron at Castle Cary and Wincanton from closure – but that's only one chapter of a remarkable story.
Alison is a Mum of six children, all now grown up. Over the years, every one of them has taken part in cadet activities in one form or another. And that's not to forget husband Nick who, like Alison, is also a committed Warrant Officer.
"It all started in 2004 when Matthew was 13 and joined the unit at Wells," explained Alison. "They were looking for adult volunteers and Matthew came home and said that, as I was previously in the Women's RAF, it would be perfect for me."
Alison is now the Officer Commanding at 914 Squadron, Glastonbury and Street, which itself requires a constant commitment to weekly training and weekend activities. But this wasn't going to dissuade her from stepping in at Castle Cary and Wincanton, where she had been based previously.
The sub-unit had reached crisis point owing to falling cadet numbers and a shortage of instructors.
It took time. But gradually she was able to use her experience to advise and help rebuild morale and energy at a unit which is now recovering and building solid foundations for the future.
The Air Training Corps provides tremendous opportunities for youngsters from many different backgrounds – but there are rewards, too, for leaders like Alison.
"The thrill for me is seeing cadets achieve things," she added. "I'm in quite a lot of the ATC shooting activities, for example, and often there will be youngsters who initially don't even know how to pick up a rifle, let along take an active part on the range.
"But, with the right sort of encouragement, we see them start to push themselves a bit and then really blossom."
Alison received her Certificate for Meritorious Service from the Lord Lieutenant, Mrs Annie Maw, during award ceremonies at the Bishop's Palace in Wells.
---