---
The Intelligence Corps is one of the smallest Corps in the British Army. However, what the Corps lacks in size it more than makes up for in impact and influence.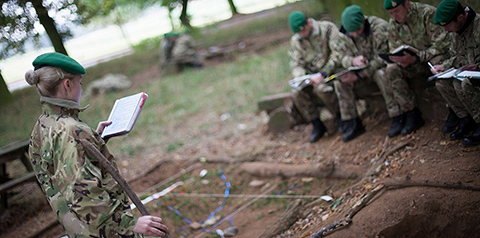 Throughout history it has always been important for a military commander to obtain and understand intelligence with regards to their enemy. Modern military operations are no exception, and are now almost entirely dependent upon the provision of highly accurate and timely intelligence. All of this can have an effect upon how a military commander may plan and execute an operation.
It is the role of the British Army's Intelligence Corps to provide the commander with intelligence, allowing him situational awareness to support his decision making process, whilst at the same time preventing a whole spectrum of opposing forces gaining information about our operations.
Intelligence Corps soldiers work at all levels of military command; from tactical infantry company-level counter insurgency operations, to the strategic level at the Defence Intelligence in London.
7 Military Intelligence
7 Military Intelligence Battalion is an Army Reserve unit which is highly operationally focused. Most of its officers and soldiers have completed operational deployments, including the Balkans, Iraq and Afghanistan. When deployed they are completely integrated with and work alongside their regular army Intelligence Corps counterparts. The Battalion's present focus is to prepare and deploy Intelligence Corps officers and soldiers to operations in Afghanistan, and to prepare for operations worldwide.
The 322-strong Battalion has three Military Intelligence (MI) companies. 71 MI Company is based in Bristol and Cardiff, 72 MI Company is based in Southampton and Exeter and 73 MI Company is based in Newbury.
The Battalion's strength is its people. Their common motivation for joining is to seek an intellectual and physical challenge. They come from a range of backgrounds and represent a cross-section of high calibre talent from across the UK. Most members of the Battalion are educated to degree level; however the key qualities that they require are an inquisitive open mind, an analytical and logical thought process, and the ability to provide written and verbal briefs to commanders.
The Battalion provides the necessary training to enable recruits to become Military Intelligence analysts. The training emphasis is on building core Operational Intelligence (OPINTEL) skills and an understanding of actual and potential theatres of operation. Analysts need to be able to draw information from a wide variety of sources, ranging from open source material from the news media to highly classified information. They must be able to understand complex situations and then communicate their conclusions to decision makers.
Specialist skills across the range of intelligence disciplines may then be developed to broaden their skills. Members of the Battalion have worked on operations in Human Intelligence (HUMINT), Imagery Intelligence (IMINT), Weapons Intelligence (WIS), Exploitation (EXP), Signals Intelligence (SIGINT), Psychological Operations (PSYOPS) and utilising language skills as Military Linguists.
All Military Intelligence operators are soldiers first, and provide support to the Field Army. This means that all our personnel need to meet the minimum fitness standards of the Army and have the ability, should the operational environment require it, to deploy to austere locations. The Battalion has a robust close combat skills package and field craft is regularly practiced. Prior to any deployment, personnel undergo a specific pre-deployment training package to prepare them for operational service.
The Intelligence Corps, because of its very specialist role, undertakes a Specialist Selection weekend which is designed to test and confirm potential candidate's aptitude and suitability.
7MI Battalion Reserve Specialist Selection is undertaken every two months and rotated between Bristol and Southampton. Captain Phil Smith (the Regimental Operations Support Officer) is responsible for the running of these weekends.
The process is competitive and is designed to identify candidates who may be suitable for a career as either an Operator Military Intelligence or an Operator Technical Intelligence. The Intelligence Corps needs well rounded individuals.
In order to identify the most suitable people, the selection process comprises of three forms of test with multiple tests within each category:
            Academic Assessments – To gauge the ability of a candidate to deal with information.
            Language Aptitude Testing – To gauge a candidate's suitability to train to be an OPTI
            Personality Assessments – To identify the ability of a candidate to work in a small team.

Additional information can be found at http://www.army.mod.uk/intelligence/intelligence.aspx
---