---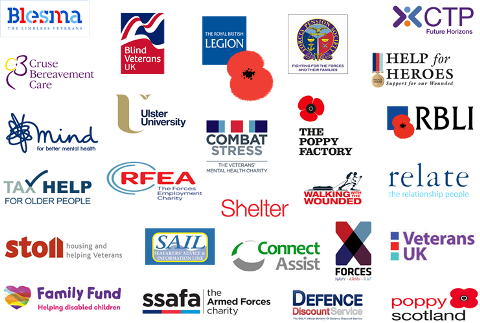 Service launched in response to Lord Ashcroft's Veterans' Transition Review
More than 40 per cent of veterans surveyed said they would not know which Armed Forces charity to turn to
83 per cent of veterans welcome a new first point of contact service
Veterans' Gateway will simplify access to 'confusing' armed forces charity sector
£2m of Covenant Fund allocated by MoD to fund first point of contact for veterans
A new service launched today called 'Veterans' Gateway' is promising to revolutionise a military charity sector that currently leaves over half (54 per cent) of veterans 'confused', by providing a first point of contact for veterans seeking support.
Launched ahead of the annual Armed Forces Day this weekend, 'Veterans' Gateway' will improve access to welfare services and speed-up the time it takes for veterans to receive the support they deserve. The new £2 million service is funded by the Ministry of Defence (MoD) from the Covenant Fund and will be delivered by a Royal British Legion-led consortium comprising Poppyscotland, Combat Stress, Connect Assist, the Ministry of Defence and SSAFA, the Armed Forces Charity.
Independent research[i] commissioned by the consortium reveals that a fifth (20 per cent) of veterans have been referred to between three and 10 charities before eventually finding support, and that more than half (54 per cent) found the sheer number of charity providers confusing; there are now over 2,000 registered Armed Forces charities. The resulting confusion left 45 per cent unsure where to turn. Over 41 per cent of respondents said the number of military charities makes it 'harder and slower' to get the right help.
The new 24-hour online chat, phone, and text message service is partly manned by veterans who have been trained to help a British Armed Forces community estimated to be around 6 million and growing by 20,000 annually. Bringing together over 30 referral partners including Veterans UK, Mind and the Career Transition Partnership to name but a few – and with more organisations to be added – veterans and their dependents will be able to access support services in areas including physical health, financial support, assistance with independent living, housing, mental wellbeing, and employment.
The service comes in response to independent reports published by the Forces in Mind Trust and Lord Ashcroft's 2014 Veterans' Transition Review, which both called for the process by which veterans are guided to welfare support services to be made easier to navigate. Lord Ashcroft's principal recommendation was the creation of a single 24/7 contact centre.
Charles Byrne, Director General of The Royal British Legion, on behalf of the Veterans' Gateway consortium said: "Every charity only exists to help, but Lord Ashcroft revealed the uncomfortable truth that a proliferation of providers in our sector can cause confusion about where to turn. The consortium's research found that the Armed Forces community – overwhelmingly – supports the Veterans' Gateway, with 83 per cent welcoming the creation of a first point of contact. Veterans' Gateway will make it easier for them to get the support they need, from whoever is best able to provide it. No matter how complex their needs, working together we can do more."
Craig Slicker, a 43 year-old former Lance Corporal in the Army, left the Infantry in 2013 having been made redundant. After 17-years' service he found the transition to "Civvy Street" incredibly difficult but, unaware of what support services were out there, did not reach out to any charities for guidance. He believes Veterans' Gateway will be a great help for others like him struggling to adapt to life outside the military.
Craig said: "When I was told I was leaving, I had to think what next and after being in the Army so long, it was a shock to the system. I didn't know what I could do or what I wanted to do, or where I could turn for advice. A service like Veterans' Gateway would have been hugely helpful because I had no idea how to find out what support was available to me. I will definitely use it because I'm still struggling financially, just getting used to being paid weekly is a challenge and trying to balance the bills, and I'm still looking for a job that suits my skills."
Tobias Ellwood, Minister for Defence People and Veterans said: "The vast majority of our people make a smooth transition from military to civilian life, but Veterans' Gateway provides extra support in the form of a staffed, 24-hour, one-stop-shop offering guidance on housing and employment, finance, mental and physical health. Our £2 million investment honours the nation's Armed Forces Covenant and draws all facets of support for our Armed Forces community together for the first time."
Lord Ashcroft KCMG PC said: "I am delighted to see the launch of the Veterans Gateway which I hope will become well known and be the default single point of contact for Veterans seeking help. As I discovered when conducting my review into Veterans' Transition the current proliferation of contact centres and web sites is confusing, difficult to navigate and results in some giving up. I hope that all the military charities now work with Gateway to make it a success."
In 2013 The Forces in Mind Trust's independent Transition Mapping Study found that the unsuccessful transition from Service to civilian life cost the UK economy an estimated £113 million in 2012 alone. It is hoped that with earlier, more accurate intervention, the cost will be considerably less, to both the individual seeking support and the UK economy.
To contact Veterans' Gateway Call: 0808 802 1212 Text: 81212 or visit: www.veteransgateway.org.uk
[i] Independent research commissioned by The Royal British Legion in its capacity as consortium-lead for the launch of Veterans' Gateway. The survey of 1,000 individuals from the British Armed Forces community aged 18+ was conducted between 8th May 2017 and 26th May 2017.
---