---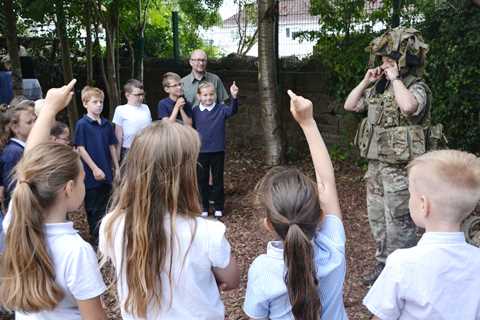 More than 500 pupils at Shirehampton Primary School in Bristol had fun testing their problem-solving and hand-eye co-ordination skills during a visit by Army Reservists from 7th Military Intelligence Battalion.
They also learned about how soldiers live 'in the field', about camouflage and concealment and how to prepare meals from ration packs. Then the Reservists stayed to have school lunch with the pupils.
It was the first time that many of the girls and boys – aged from 3 to 11 – had seen someone in Army uniform, other than on TV or films.
Teacher Becky Sullivan said: "The aim of the exercise was to raise awareness among the kids of what the Armed Forces actually do. We don't have many Forces families in the school but in doing this we are helping to forge links between the forces and the civilian community.
"It's about teamwork, fun and the opportunity to do something different," added Becky, whose husband is an ex-Regular with the Royal Artillery.
"Also, a number of our children don't have strong male role models so this is a good opportunity to see men in a positive role."
The activities were organised as part of Armed Forces Week in conjunction with Bristol Rovers Community Trust. The Battalion's Recruiting Warrant Officer Paul Hughes, who is also an Under-16 coach with Rovers, organised the event assisted by Lance Corporal Sam Fisher.
Captain Phil Smith, of 7 MI, said: "We are giving something back to the community and showing people who we really are. Many of them have never seen a soldier in uniform except on the TV news."
Captain Katie Fry explained the principles of camouflage and concealment, letting pupils try on Army helmets, while Lance Corporal Mark Williams showed them what was in a typical Army ration pack.
7th Military Intelligence Battalion has its headquarters at Horfield and covers a large area of the South and West of England, with sub-units stretching from Newbury to Exeter and from Southampton to South Wales.
---