---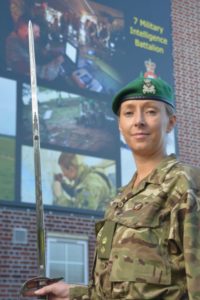 7th Military Intelligence Battalion, which has its headquarters at Horfield Army Reserve Centre, has been honoured with the responsibility for leading Bristol's Remembrance Parade on 12 November.
It is the first time that the ceremony – one of the largest such events outside of London – will be headed by the Intelligence Corps.
The Battalion's newly-appointed commanding officer, Lieutenant Colonel Sue Wright, will lead a 1,000-strong parade of Reservists, military veterans, members of the uniformed cadet organisations and representatives of the civic community.
They will include 80 Reservists from 7MI, which covers a large area of the south and west of the country, with sub-units stretching from Newbury to Exeter and from Southampton to Newport in South Wales.
Also taking part will be members of the Royal Naval Reserve, Royal Marines Reserve and other Army Reserve units in the city, which include 6 Rifles, 39 Signal Regiment, 266 (Gloucestershire Volunteer Artillery) Battery and Royal Monmouthshire, Royal Engineers (Militia).   
Lt Col Wright, a former Regular who has been in the Army Reserve for 10 years, said: "I was really honoured to be asked to lead the Remembrance Parade, to represent the uniformed services of Bristol.
"It also helps to raise the profile of the battalion, which is still fairly new."
She commands a battalion that was established in 2014, with a planned strength of around 350. Total numbers have already risen to more than 300 but she is keen to attract the remaining 50 as soon as possible.
"We have plenty of opportunities, for the battalion headquarters and 71 MI Company which is also located here."
The civilian careers of current Reservists range from doctor and teacher to students and defence contractors. Potential recruits are typically bright, enthusiastic and outgoing people who have an interest in current affairs, problem solving and analysis.
 She added: "Most of our soldiers are graduates but not everyone wants to be an officer. If people are already managing a team in their civilian career, they may wish to be an analyst with us rather than lead a team.
"But my approach to leadership is that all ranks have a role in leadership. Our Reservists become Lance-Corporals once they leave training so they themselves are junior leaders."
7MI is paired with the Regulars of 4 Military Intelligence Battalion, based at Bulford Camp on Salisbury Plain with a role in supporting 3 (UK) Division.
For more information about 7 MI Battalion, call 01985 223713 or go to http://www.army.mod.uk/intelligence/34223.aspx
www.facebook.com/7MIBn
Follow us on Twitter: @7_MI_Bn
---