---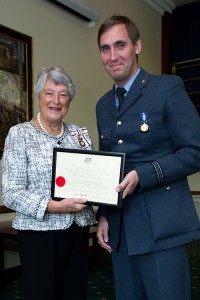 A 41-year-old IT technician from Mitcheldean has been honoured for his dedicated work on behalf of the Air Training Corps.
Flight Lieutenant Richard Jennings received his Certificate for Meritorious Service from Her Majesty's Lord-Lieutenant of Gloucestershire, Dame Janet Trotter DBE.
The presentation took place during ceremonies at the Officers Mess, Headquarters Allied Rapid Reaction Corps, Gloucester.
Richard's ATC service goes back many years to when he joined Cheltenham's 125 Squadron as a Cadet.
After a spell as a civilian instructor, he was commissioned in 1995 and took over as Officer Commanding, 2322 (Dowty) Squadron. Having built the strength of the unit there, he took on a similar challenge at 2328 (Bishops Cleeve) Squadron.
From a period of cadet and staff morale at a low ebb, he has seen the unit's strength double to 40. The Squadron was nominated as the most improved unit in the Bristol and Gloucester Wing in a national ATC competition.
"It's just been a matter of getting the cadets out doing lots of different things – including four of five Duke of Edinburgh Award expeditions this year," he said.
"We're lucky, too, that the village of Bishops Cleeve has a real community spirit to it. When people know you are doing a good job, they will give you plenty of support and encouragement."
The ceremonies included the appointment of ten young people as the Lord-Lieutenant's Cadets for the next year, a role which includes attendance at a number of official engagements.
They were chosen on their merits within their respective Cadet forces, but also for their dedication and work within the local community.
Representatives from the Forest of Dean are:
       -Thomas Woodward, aged 17, of Huntley, a Cadet Colour Sergeant with Cinderford Platoon, Army Cadet Forc.
       – Elin Caine, aged 17, of Gloucester, Cadet Flight Sergeant with 186 Squadron, Air Training Corps, Newent.
---