---
Just a few months after taking over command of 39 Signal Regiment, Lieutenant Colonel Vince Connelly has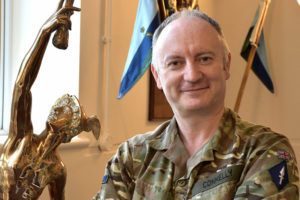 been told to prepare his Army Reservists for an important new role with the multi-nation Allied Rapid Reaction Corps (ARRC).
As of 1 February, 39 Signal Regiment moved under the command of 1 UK Signal Brigade who are based within the ARRC at Imjin Barracks, Innsworth, near Gloucester.
Lt Col Connelly said: "We'll start to develop expertise in their communications assets. It's an evolving role over the next couple of years and it may involve taking a Regular squadron on board.
"252 Squadron, already the lead ARRC Signals Squadron from the G6 countries in NATO, will come under our command at some point. It means we will become one of a number of hybrid Regiments, a new concept in the Royal Signals."
The Regimental HQ is at Horfield in Bristol and there are squadrons along the M4 at Bath, Cardiff and Windsor. All Squadrons are looking to attract new recruits.
Lt Col Connelly, a 49-year-old psychology professor, who has been a Reservist since 1986, would like to expand the Regiment by adding detachments in formerly fertile recruiting areas, such as Weston-super-Mare.
That's because the unit is likely to keep its UK Operations role, providing information and communications support for regional Brigades, usually when Regulars are called in to support 'blue light' services and civilian authorities in response to large-scale emergencies, when required.
Lt Col Connelly explained: "We have people and capability held at extremely short notice to fulfil that mission. Our 'ops' control room is held at extremely short notice for individuals to man it. And we have various assets that are at notice to move on other timings.
"We were put on alert during the recent blizzards but because there was no massive requirement for communications support we didn't have to provide any manpower."
The Regiment was called in to support in the wake of the terror attacks in London and Manchester last year because the significant numbers of Army personnel involved needed secure and reliable communications.
Reservists can also be mobilised individually in support of other Regular forces at home and abroad.
Training for new recruits will be balanced between data and communications-focused trade skills on IT platforms and 'back to basics' soldiering. The regiment is off to Cyprus in September for a military skills camp. All 130 spaces have already been taken up.
For more information about 39 Signal Regiment, call 01985 223735.
---