---
A new Joint Cadet Centre has been opened in the grounds of Marine Academy Plymouth, which will provide Cadets with state-of-the-art training facilities.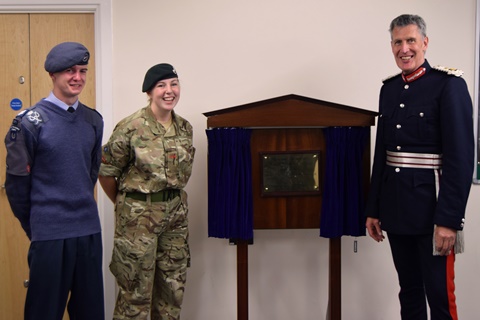 The Centre, which will be shared by Cadets from the local Air and Army Cadet units, has been project managed and delivered by Wessex Reserve Forces' and Cadets' Association (RFCA), working with construction company Morgan Sindall plc.
The facility offers updated accommodation for the local Air Cadet unit, which has relocated from poor quality and small accommodation. The project has also opened up even more opportunities for young people in the area, with the extra space allowing for the formation of a new Army Cadet unit.
Marine Academy Plymouth Cadet Centre was officially opened in front of distinguished guests by the Lord Lieutenant of Devon, David Fursdon, who was delighted at the opportunities that the new Centre will offer to local young people.
The Lord Lieutenant said; "I'm sure I speak on behalf of other guests to say how good it is to see you in your new home." He went on to say about the Centre; "This is a wonderful facility to have. It is great to see the joint venture between the services."
A number of activities were demonstrated by the Cadets to guests throughout the evening, including first aid, weapons handling and field craft.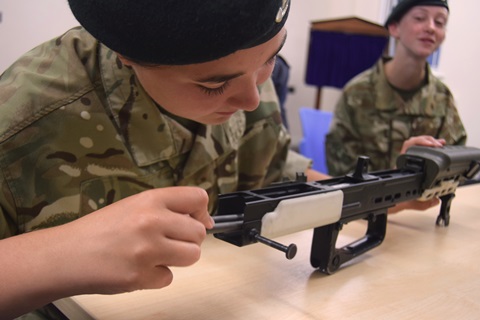 Francis Reis, Wing Commander of Plymouth and Cornwall Wing Air Training Corps, said about the project; "It's a really good story for this part of Plymouth. What the school has done is allow us to offer Cadet opportunities to local young people."
The new facility includes classrooms a range, stores and office facilities, providing Cadets the perfect place to carry out training.
"We are always looking for ways to provide more and better facilities for the excellent cadet units based in communities around the South West region" said Steve Hodder, Chief Executive, of Wessex Reserve Forces' and Cadets' Association, "funding is limited but occasionally we are able to make it go further by working in partnership with other organisations, as in this case.  We are very grateful for the support that Marine Academy has given us in the form of land on which to build this new facility".
The Cadet Forces offer young people the opportunity to have fun and make friends, whilst carrying out adventurous and military based activities. Cadets have the opportunity to gain nationally accredited qualifications in leadership, first aid and public services, as well as gain skills such as leadership, teamwork and self-reliance.
These incredible opportunities would not be available without the many dedicated adult volunteers, who give up their free time to support the young people and help them develop.
If you are interested in joining the Army Cadets, as a Cadet or Adult Volunteer, visit; armycadets.com. If you would like to join the Air Cadets as a Cadet or Adult Volunteer visit; www.pcw-aircadets.co.uk.
---