---
Brigadier Steve Hodder has taken over as Chief Executive of Wessex Reserve Forces' & Cadets' Association, succeeding Tony Dalby-Welsh who led the organisation for 12 years.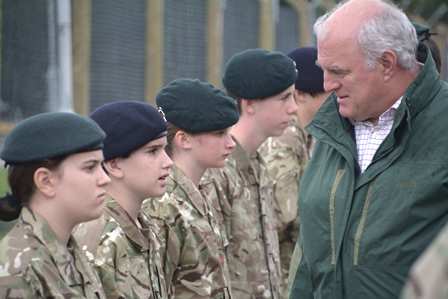 One of Steve's main aims is to empower the organisation's volunteer membership so that the RFCA can provide an even more effective link between the military and civilian communities.
He also sees the RFCA needing to be 'flexible and agile' in responding to any new tasks or expanding the support given to Reserve Forces and Cadet organisations.
He said: "As the Services evolve and do things in different ways, we have to be prepared to change with them. For instance, we supported the Future Reserves 2020 Programme with help for recruiting, and we are also growing our employer support capability to enable us to support the expanding Army Reserve.
"The new roles for the Reserves, and tighter integration with the Regulars, will be a very interesting area as it develops further."
With his family roots in Devon and as a former Army regional commander in the South West, Steve has close affiliations to the region. He retired in 2013 having served as an Army officer in the Royal Engineers for 33 years, latterly as Commandant of the Royal School of Military Engineering Group. Since then he has had a senior position at Teignbridge District Council, responsible for strategic planning and corporate services.
As Commander 43 (Wessex) Brigade, based in Tidworth, Steve spent three very enjoyable years working closely with reserves and cadets in the South West region. He has visited a number of cadet summer camps during his hand-over from Tony Dalby-Welsh.
Steve said: "Visiting the cadet camps gives me a great opportunity to speak to the cadets and learn about their motivations, achievements and future plans. I never cease to be impressed by the difference being a cadet can make to a young person's life. They benefit from taking part in a wide range of activities and develop a true sense of community with those around them. I'm very grateful to the adult volunteers who make all this possible; they work extremely hard but I know they gain a great deal of satisfaction from their work.
He added: "Reserves are the same. In return for their commitment as a reservist, they can gain a range of trades and qualifications in addition to developing their leadership, team-work and communication skills."
On the RFCA's role as adviser to the Defence Council, he said: "The RFCA's status as an 'arm's length' body sitting outside the MOD can be beneficial to all concerned.
"The RFCA isn't just about its staff. Each region can call on it's volunteer membership to bring a broad range of experience, knowledge, skills and influence to bear on a wide variety of regional and local issues.
---