---
Somerset Army Cadets welcome their new Commandant, Colonel Peter Bates OBE, who took up his appointment on 28th March.
Colonel Bates was commissioned into the Royal Artillery in 1979 and has served the majority of his regimental career in the Airborne and Commando brigades, serving on operational tours during Op Corporate (the Falklands War), in Northern Ireland, the jungle, Bosnia and Iraq. In addition to Regimental duty he has been Chief of Staff of the UK Artillery Brigade and held many staff appointments, with the majority being in training and procurement environments. He has a BSc and MA and was appointed an OBE in the 2008 New Years Honours list.
In 2013, Col Bates left the army early and spent two years as Business Development Director at a group of schools in Bath, raising over £1.3Million in under two years. Despite the success this was short-lived incursion into the education sector and from September 2014 he has been working as an army reservist virtually full time, coordinating and delivering all Ten Tors activity for three years. Since relinquishing that role he is now working as part of the Military Civil Integration team on behalf of the Commander HQ South West at Tidworth.
He lives on the border of Somerset and Wiltshire and is married to Merete, a Danish physiotherapist who runs a private practice in Somerset. They have four children; the eldest married into the Army, and the youngest enjoying a gap year, all whilst helping themselves to the wine cellar!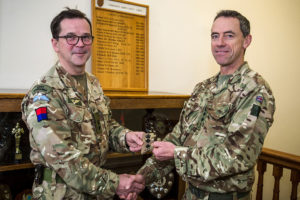 He was delighted to be appointed Commandant of Somerset Army Cadets, taking over from Col Stephen Bartlett QVRM TD. Col Bartlett thoroughly enjoyed his time with Somerset, being invigorated by the cadet world and citing that in his opinion, "Army Cadets have given me the chance to see both cadets and adult instructors developing in an environment that allows them to find their own limits, without the restrictions so often found at schools or at work" as his primary source of satisfaction.
---