---
Army Reservists with Dorchester-based C Company, 6th Battalion, The Rifles, have welcomed a Dorset-born former Regular soldier as their new Officer Commanding.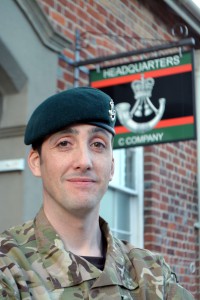 Major Toby Hood's decade of Regular Army service included two Afghanistan tours and ended with his appointment as aide-de-camp (personal assistant) to the Adjutant-General at Army HQ, Andover.
Toby left the Regular Army in September 2013 and within days was back in uniform with the Reserves – initially running C Company's Poole platoon, then as second-in-command at Dorchester.
It was a planned move. Simultaneously, he switched just as smoothly from the Regulars to a new civilian job as Directorate Manager for Head and Neck Services at Dorset County Hospital.
He and his wife Helen are thrilled to be back in Dorset – both were born in the east of the county in the village of Alderholt. They now live in Blandford and have two small sons, three-year-old Rupert, and Thomas, aged six months.
Toby is keen to maintain strong recruitment at Dorchester and, in particular, to see the revival of the mortar platoon at Poole– reintroduced under Army 2020 restructuring. It's a role that would suit ex-Regulars as well as new recruits, he says.
He adds: "The Army is in a regeneration phase which, for many reasons, makes it a good time to join.
"While we have finished our time in Iraq and Afghanistan – which gave the Reserves an excellent opportunity to send small teams to the operational theatre – we now have a vital role in supporting the Army as well as the country in times of crisis."
A package of financial and other support is available to all employers of Reservists, to help them accommodate absences and minimise the impact on their business. Additional financial help is available for SMEs, recognising the greater impact that absences can have on smaller companies.
For more information about C Company, call 01305 264969 or to find out about 6 RIFLES and wider opportunities in the Army Reserve visit www.army.mod.uk/infantry/regiments/26607.aspx
Information on support for employers can be found at: http://www.sabre.mod.uk/Employers/The-Mobilisation-process/Financial-assistance
---