---
The Royal Air Force has opened a new Reserve squadron in the South West. 505 (Wessex) Squadron is a brand new Royal Air Force Reserve squadron based at RAF St Mawgan, in Newquay. Previously, the nearest RAF Reserve squadrons were in Cardiff and RAF Brize-Norton, both of which are over 200 miles away! The new squadron will be led by Commanding Officer, Squadron Leader David Mann.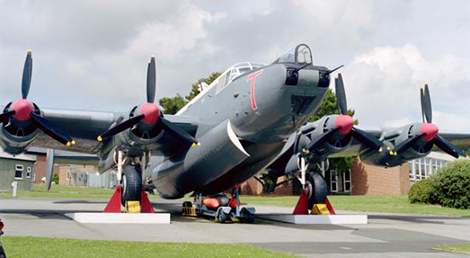 A core team has been put in place in order to establish the infrastructure and processes needed to enable the Squadron to start recruiting later on this year. A further seven full time members of staff will join the Squadron over the coming months.
Squadron Leader David Mann Says: "It is an honour to be the first Commanding Officer of this new unit in the South West. The team is progressing the initial work, putting in the key foundations in place to build the new squadron, which will be open for people to join from across the region in a variety of roles."
505 (Wessex) Squadron will recruit and train 'spare time' Volunteer Reservists from across the South West of England, in order to support the Royal Air Force in UK tasks or on deployed operations.
505 (Wessex) Squadron is a General Support Squadron; which will provide support in a number of roles. To do this, it will need to recruit and train Drivers, Chefs, Suppliers, RAF Policemen, HR specialists and Intelligence Analysts in airmen ranks as well as providing opportunities for personnel to progress to officer rank. Whilst ex-regular personnel from the armed forces are welcome, no previous military experience is required to join, and consideration will always be given to individuals with particularly specialist or professional skills, for example doctors and lawyers.
505 (Wessex) Squadron aims to attract up to 60 spare time personnel and expects to start recruiting by the end of 2015 Although the squadron is currently not ready process potential candidates, we will be delighted to receive notes of interest SMG-505SqnAdjt@mod.uk in order to keep people informed of our developments.
The Royal Air Force St Mawgan Station Commander, Wing Commander Guy Bazalgette said "We were absolutely delighted when it was announced that a new unit was arriving at the Station. It is even more exciting that the new unit will consist of local personnel who are already a part of the community. We pride ourselves on flying the flag for the RAF across the South West, and adding part time volunteers to the list of serving personnel, cadets and veterans is just the icing on the cake."
Employers can also reap the benefits from employees who undertake Reserve service; ranging from soft skills such as teamwork, leadership & management, through to enhanced personal attributes; dedication, loyalty, tenacity and the ability to work under pressure; as well as specific skills which may relate directly to the business. Employers can find out more from the Supporting Britain's Reservists and Employers Campaign web site www.sabre.mod.uk or contact the Region SaBRE Campaign Director, Jon Beake on 01823 250110 or wx-empsp@rfca.mod.uk.
---