---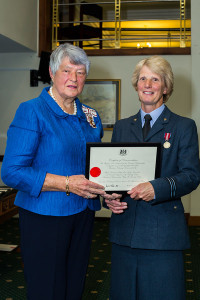 A driving instructor from Ruspidge, near Cinderford, has been honoured for her inspirational leadership of the Air Training Corps unit in Newent, Forest of Dean.
Sally-Anne Grimshaw received her Certificate for Meritorious Service from Her Majesty's Lord-Lieutenant of Gloucestershire, Dame Janet Trotter DBE, during a ceremony at the Allied Rapid Reaction Corps headquarters, Imjin Barracks, Gloucester.
The Certificate recognises service of an exceptionally high order by people connected with the Reserve Forces or uniformed cadet organisations.
It all started for Sally-Anne a decade ago or so ago when, as a parent of cadets at 186 (Newent) Squadron, she helped out on parade nights with "washing up and generally tidying up the place."
She added: "I was then asked to join the committee, which I soon discovered didn't really exist! So, having sorted that out, I was talked into volunteering as a civilian Cadet Instructor. I hadn't thought of going into uniform, but a commission followed shortly afterwards – and things just grew from there."
And they really have grown! Flight Lieutenant Sally-Anne is now the Officer Commanding of 186 (Newent) Squadron. She organises projects for the cadets towards the Duke of Edinburgh Award, trains the unit's Ten Tours teams and, as if that wasn't quite enough, directs an alpine adventure project that each year takes more than 100 cadets from many parts of England and Scotland on skiing trips to the Bavarian Alps.
Her four children were all Newent cadets. Son Thomas is now in the RAF while daughters Rebekah, Jennifer and Victoria have maintained their ATC connections as Cadet Instructors.
"The ATC is an incredible organisation," enthuses Sally-Anne. "We get 13-year-olds who come in here and wouldn't say boo to a goose. Over the next five years you see them transform into confident adults through tackling activities such as the Duke of Edinburgh Award. Challenge them to venture a little bit out of their comfort zone and they will respond and just blossom from there."
The Certificate of Meritorious Service was also presented to policeman Mark Evans, of Cinderford, who in his spare time is Second-in-Command and Training Officer of Coleford's Army Cadet Force platoon.
The ceremonies included the appointment of young people as the Lord-Lieutenant's Cadets for the next year, a role which includes attendance at a number of official engagements.
They were chosen on their merits within their respective Cadet forces, but also for their dedication and work within the local community. Representing the Forest of Dean will be:
Nathan Bailey, aged 17, of Lydney, Sergeant in 614 (Lydney) Squadron, whose ambition is to join
---