---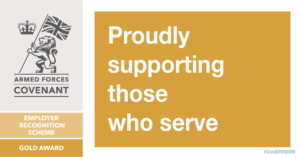 We are delighted to announce that this year, nine south west businesses were among 127 employers to be presented with the Employer Recognition Scheme Gold Award.
Congratulations to Active Plus CIC, Company X Consulting, Cornwall College, Engage Technical Solutions, Mears Group PLC, SA Group Ltd, Simpkins Edwards LLP, Techmodal Ltd and Weston College, on this outstanding achievement.
The Employer Recognition Scheme Gold Awards continues to grow in strength year on year. To win an award organisations must demonstrate that they provide ten extra paid days leave for Reservists and have supportive HR policies in place for Veterans, Reserves, Cadet Force Adult Volunteers and Spouses and Partners of those serving in the Armed Forces. They also advocate the benefits of supporting those within the Armed Forces community encouraging others to sign the Armed Forces Covenant and to engage in the Employer Recognition Scheme.
2020 marks the seventh year of the awards scheme and this year 47% of winners are either Micro organisations or SMEs and 38% are public organisations. This demonstrates both the growth in numbers and the depth of supportive employers who cover a wide range of sectors and company size. This year's 127 award winners join a group of 226 winners from previous years bringing the total to 353 organisations who can share their knowledge and experience on the benefits of employing those from the Armed Forces community.
Johnny Mercer, Minister for Defence People and Veterans said: "The breadth and diversity of the winners this year shows how business support for the Armed Forces continues to grow no matter the sector, company size or location. I am grateful for the positive attitude and flexible policies these organisations have adopted towards the defence community, which is testament to the fantastic contribution our serving personnel, veterans and their families can make to any organisation. I am delighted that so many companies are supporting our people and that, through this scheme, we can give them the public recognition they deserve."
---