---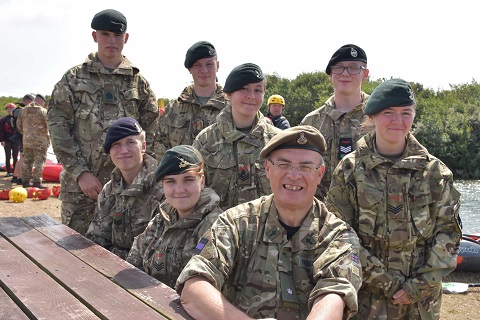 Padres are unique as the Army's only trained, uniformed personnel who operate outside the chain of command but that does not make their role any less valuable, certainly within the Army Cadets.
Chaplain David Flower is a key member of Dorset ACF's Welfare Support team and helps provide pastoral care to cadets and adult volunteers.
Both cadets and adults are drawn from a broad, diverse cross-section of urban and rural communities so all ACF padres, whatever their denomination, are trained to provide multi-faith support.
Commissioned in 2000 and equivalent in rank to a Major, David's skills and experience are especially valued on annual summer camp. He has been on quite a few, having previously served with four other ACF counties – Buckinghamshire, Cornwall, Oxfordshire and Suffolk.
In his day job, David is Lead Chaplain and Mortuary Manager with Royal Bournemouth and Christchurch Hospitals NHS Foundation Trust.
He said: "My role with the Army Cadets is obviously at the other end of the scale from working with people who are dying or are very sick. The young people here are so full of life.
"As padres, we are very much part of and central to the ACF organisation but, being outside of the chain of command, we can pick up welfare and emotional and psychological issues that young people face – and indeed the adult staff too.
"Sometimes, the confines of a camp will bring issues to the fore."
He added: "A padre has a distinct role but I can move about camp at will. I feel very much part of the family here.
"I have a particularly close relationship with the medical team and with the Cadet Executive Officer on safeguarding issues. I've had to be on a learning curve on issues such as self-harm but working so closely with the ACF staff has made my role even more fulfilling."
With 300 cadets on camp at Longmoor in Hampshire, supported by 90 adults, Wiltshire ACF has taken a novel approach to the job of pastoral care and safeguarding.
They built a 'Padres' Palace' in a theatre on camp, effectively using it as a drop-in welfare centre for the cadets during their downtime, with computer games, tactile toys, board games and other diversions including a STEM Club. Of course, the padres, Major Alan Jeans and Captain Jo Reid, were on hand to listen and reassure, and could call on professional medical support where required.
Within a few years of running this initiative, the drop-in centre had helped to reduce summer camp drop-outs from the average historical figure of 20 to just one or two.
---