---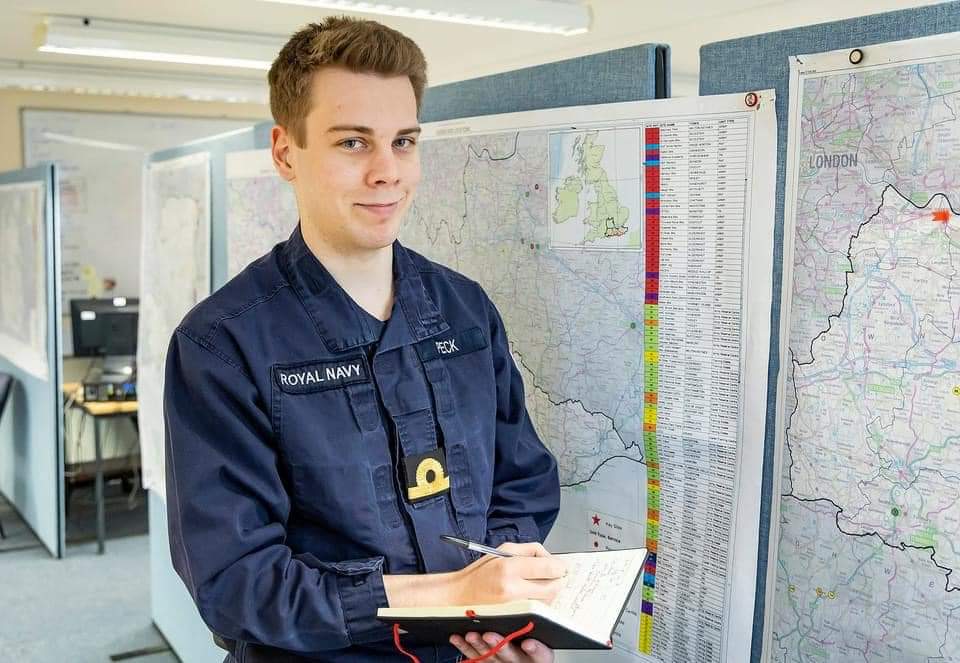 A Royal Naval Reservist from HMS Vivid has put his university career on hold after volunteering for mobilisation as part of the UK Government's response to the Coronavirus Pandemic. 
Sub Lieutenant Ben Peck is a member of Plymouth's HMS Vivid who are based close to the Dockyard in Devonport. Ben has served in the RNR for just under six years and is studying towards a BSc in Navigation and Maritime Science, at Plymouth University. 
His goal is to qualify as a Merchant Navy Deck Officer and so far has completed four of the required 12 months of qualifying sea-time.
The pandemic changed university life completely for all students around the UK, and Ben decided to take time out from his undergraduate studies to volunteer for mobilisation on Operation Rescript, the name given to the Military response to Coronavirus. Until very recently he was working in the Joint Military Command for the South East (JMC SE) in Aldershot as an operational planner.
Explaining his role, Ben said,
"Working within an Army Headquarters and understanding how all the military branches come together has been an amazing first mobilisation, and I have constantly felt like I'm making a difference to the current situation. Being part of the team who planned the testing of drivers and hauliers on Christmas Eve was a particular highlight, as well as looking at over 300 service people giving support to the NHS."
Ben missed Christmas with his family but there was never any doubt in his mind that he was where he should be over the festive period.
Ben continues; "Working over Christmas for the first time ever was a challenge but there was such a sense of urgency for the cause, there was never a doubt about the work we had to do. Learning how the military plans operations in a Staff Officer environment was new to me, but has given me such a new perception of organisation and management. Although I had to learn the mechanics of a military HQ very quickly, looking back I'm very proud to have contributed towards the fight against COVID-19, including NHS support and vaccination setup as well as preparations for the Brexit transition."
Ben's dad, Mr Adrian Peck, took to social media in praise of his son and those like him, announcing he has had  a "Proud parent moment".
He went on to write; "My son is one of those Naval Reservists. He put his University course on hold for a year so he could work full time with the organisation and implementation of the testing and vaccine stations in the South East of the country.
"These guys are working just as hard as the NHS, seven days a week for months on end to protect the population of this country. They all deserve a medal."
In Ben's Reservist role he works in the Mine Warfare branch, and will be mobilising for a second time this year and joining an Offshore Patrol Vessel as a Tactical Fisheries Officer under the Marine Management Organisation (MMO).
---