---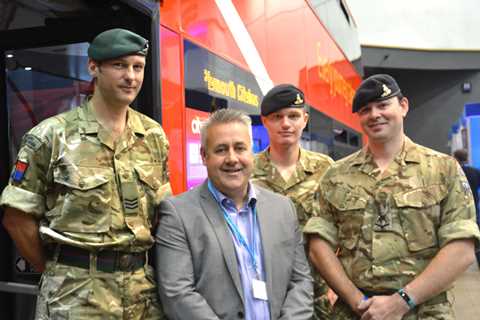 A trio of bus drivers in Plymouth will be proudly wearing their Army uniforms to work on Reserves Day (21 June) – and bringing an artillery gun to the Citybus depot in Milehouse Road.
Army Reserve Sergeant Wayne Beckett, 42, has been driving double-deckers for Plymouth Citybus for three years. Off duty, he dons his green beret as the man in charge of commando training at 289 Commando Troop, an Army Reserve detachment of 266 Battery, Royal Artillery.
Two more members of 289 Troop are bus drivers too – Gunner Lewis Poulter, 33, and Lance-Bombardier James Pritchett, 32.
Citybus was recognised last year as one of the most supportive employers in the South West, receiving a Silver Award under the Ministry of Defence Employer Recognition scheme.
All this is much appreciated by the Reservists among the 550-strong workforce and Wayne said: "Citybus have definitely come on board as supportive employers. They're very good and keen to keep their Reservists."
Plymouth Citybus managing director Richard Stevens needs no convincing of the value of Reservists and ex-Regulars among his 550 employees.
"We've got a duty to look after them," he said. "As members of our defence forces, they're asked to do things we wouldn't.
"Our Reservists are fantastic. They carry themselves well and their skills transfer easily to the day job. They have a level-headed approach to the job and are particularly good when it comes to dealing with the public."
Wayne has been an Army Reservist for eight years having been a Regular in the Royal Artillery from 1991 to 1999.
He said: "Before the buses I'd worked in a factory and then as a full-time retained fireman, answering emergency calls and doing home safety visits. After the kids came along and grew up I got a bit bored and thought I'd give it another bash in uniform!"
Wayne is also a Physical Fitness Instructor, maintaining his own fitness by cycling in to work four miles every day. He recently competed in the Royal Artillery cycling championships at Thorney Island.
Recruits to 289 Troop come from all walks of life – students, chefs and carpenters as well as bus drivers. Although formed only two years ago, the Troop already numbers more than two dozen, with room for a few more.
The commando course is a big selling point for 289 Troop. It is not compulsory to earn the right to wear the famous 'green beret' but one newcomer has just passed his initial test and five are waiting to be tested next month.
The 105mm light gun is operated by a crew of six. With a range of 10 miles, it is a mainstay of the Royal Artillery, used by parachute and commando field artillery regiments and able to be towed by a 4×4 vehicle or slung under a Chinook helicopter.
For more information about 266 Battery call 01179 734 895.
---